General
Brazil: Don't back Iran against the wall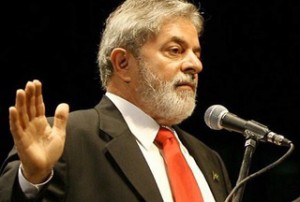 The Brazilian President says the international community should exhaust all diplomatic options in solving Iran's nuclear issue before imposing any new sanctions against it.
"Before using sanctions, we should exhaust all the limits of diplomacy," AFP quoted Luiz Inacio Lula da Silva as saying on Wednesday.
"I believe we should convince them (the Iranians) politically. What we can't do is back them against the wall," Lula added.
Lula also urged major Western powers to avoid demonizing Iran in the same way that they dealt with Iraq's case in the lead-up to the 2003 US-led invasion, when they accused Baghdad of possessing weapons of mass destruction. The claim, however, turned out to be unsubstantiated.
"I am seeing that the same sort of thing is happening with Iran," he said.
Senior diplomats from the five permanent members of the UN Security Council–the US, Britain, France, Russia and China–plus Germany kicked off talks in Frankfurt on Wednesday to review the latest developments in Iran's nuclear program.
The Western leaders including the US President Barack Obama and the French President Nicolas Sarkozy had earlier declared that the major world powers would give talks with Iran until September.
They have warned that they may consider new sanctions against Iran if they fail to halt Iran's nuclear program through talks.