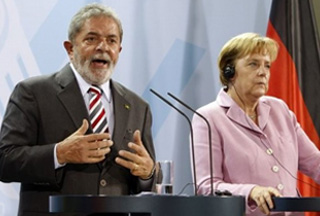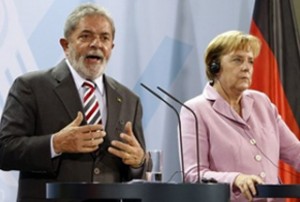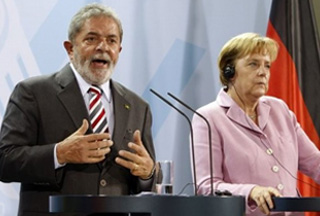 Brazil's President Luiz Inacio Lula da Silva says threatening Iran with new sanctions over its nuclear program "is not appropriate."
Lula da Silva made the remark after a meeting with German Chancellor Angela Merkel in Berlin on Thursday.
"My opinion is that it is not appropriate to treat Iran as if it were an insignificant country and strengthen the pressure on Iran every day," AP quoted Lula da Silva as saying.
The Brazilian president also called on major powers to deal with Iran "with patience" to resolve the impasse over its nuclear program.
"The best and cheapest thing for us all is if we count on negotiations and steel ourselves with patience, with a lot of patience," he said.
During his last week meeting with Iranian President Mahmoud Ahmadinejad in Brasilia, the Brazilian president backed Iran's rights to peaceful nuclear energy and called for a "just solution" to Tehran's nuclear dispute with the West.
Merkel, for her part, said that there were "small differences of approach" with Brazil over Iran.
She said that the West is not seeking to isolate Tehran but warned that "our patience has been tested, then new sanctions must be considered" if Iran fails to respond to the major powers request to halt its nuclear work.
The international atomic agency has passed a resolution — drafted by the United States, Germany, France, Britain, Russia and China — demanding Iran halt all construction work at the Fordo nuclear facility.
Iran, however, says it has the right to develop its nuclear program and has fulfilled all its commitments as a signatory to the nuclear Non-Proliferation Treaty (NPT).