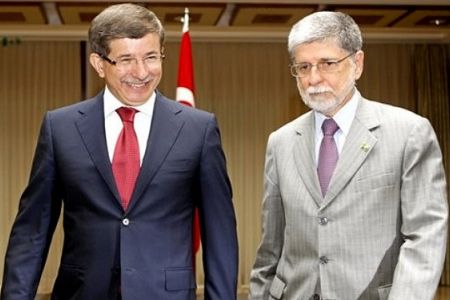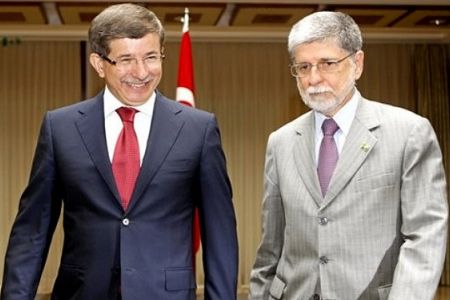 Foreign ministers of Turkey and Brazil have renewed their support for the Tehran declaration as the initiative to find a diplomatic solution to Iran's nuclear issue.
They made the remarks in Istanbul as Iranian, Brazilian and Turkish foreign ministers met for an informal luncheon.
Turkish Foreign Minister Ahmet Davutoglu, after talks with his Iranian and Brazilian counterparts Manouchehr Mottaki and Celso Amorim, said, "The Iranian foreign minister confirmed once again they are ready to start negotiations."
He said Iran has expressed willingness to have talks with the European Union on its nuclear program Union in September, after the Islamic holy month of Ramadan.
Davutoglu also said Tehran will send a letter on Monday to the International Atomic Energy Agency asking to start separate "technical negotiations" on implementing the tripartite agreement on fuel swap to exchange Iran's low-enriched uranium for more highly-enriched fuel rods.
Earlier, the Turkish top diplomat had said that his country and Brazil were ready to contribute to the talks only if they were invited by all the parties concerned.
The meeting was the first gathering between the three countries since the UN Security Council issued the Resolution 1929 against Iran on June 9 over its nuclear program.
Under the May deal brokered by Brazil and Turkey, Iran agreed to transfer 1,200 kg of its low-enriched uranium to Turkey within a month and in return receive, within a year, 120 kg of 20 percent-enriched uranium to keep Tehran's medical research reactor running.