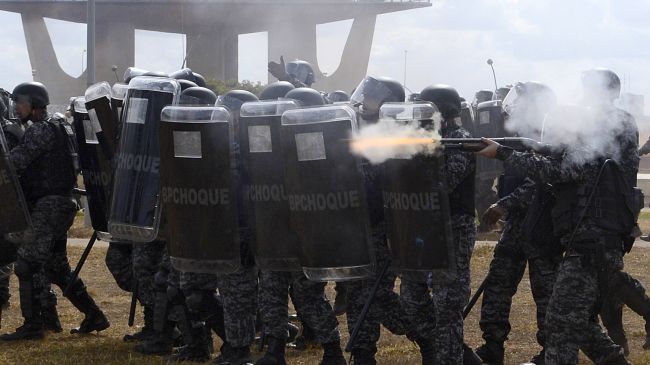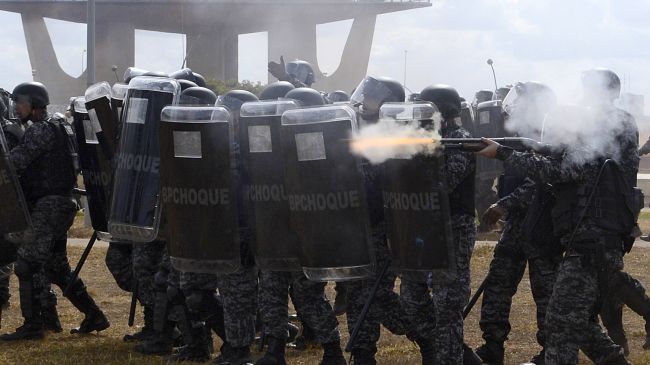 Brazilian police have clashed with protesters who took to the streets in several cities to protest against corruption in the South America country.
The protests were staged on Saturday amid the Independence Day military parades in the country.
Police fired teargas and used stun guns to disperse demonstrators in downtown Rio de Janeiro.
Police forces also used pepper spray to contain a peaceful demonstration of more than 1,000 people in the capital, Brasilia. They had gathered outside Brazil's Congress to demand the ouster of corrupt politicians.
Demonstrators were only permitted to march along the wide esplanade of Brasilia after the annual Independence Day military parade had ended.
Protesters later moved toward Brasilia's newly-built soccer stadium, but riot police confronted them by police dogs and tear gas in an attempt to stop them from reaching the stadium. More than 25 demonstrators are said to have been arrested.
Police also detained groups of youths in the cities of Curitiba and Fortaleza.
Meanwhile, a demonstration in Sao Paulo closed one of the city's main thoroughfares for a short while.
According to the organizers of the protests, many of those who had planned to join the demonstrations did not come because of the heavy police presence and the prospect of violence seen in recent clashes in Sao Paulo and Rio de Janeiro.
Saturday protests were much smaller than the huge demonstrations that Brazil witnessed in June when over one million people flooded the streets.
The June protests were initially sparked by anger at a rise in bus and subway fares. The protests rapidly turned into a nationwide movement against bad public services, the increasing cost of living, corruption and a host of other complaints, including outrage at more than USD14 billion that Brazil will spend on the 2014 World Cup.
In a bid to end the unrest, Brazilian President Dilma Rousseff pledged on June 21 to improve public services and to fight harder against widespread corruption in the country.
The move by Rousseff, however, failed to bring an end to protests.
Protest organizers have vowed to continue demonstrations until changes are made.