Latin America
Brazil's Supreme Court blocks US puppet Bolsonaro's move to expel Venezuelan diplomats
A Supreme Court judge in Brazil has suspended an order issued by the government of Brazilian President Jair Bolsonaro to expel Venezuelan diplomats over the deterioration of political ties between the two neighbors.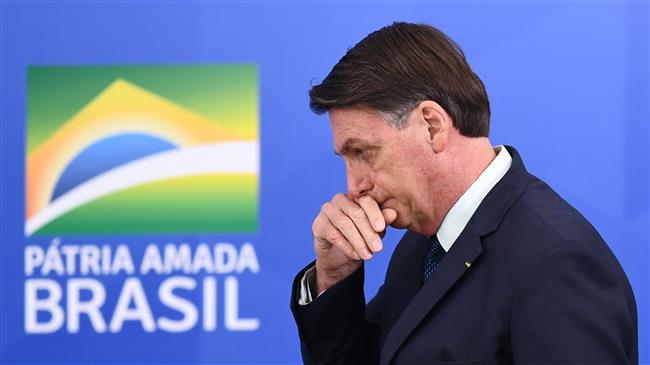 Justice Luis Roberto Barroso issued the ruling on Saturday after a lawmaker from Brazil's Workers Party filed an appeal against the government's expulsion order and said the decision was in violation of the country's Constitution, international agreements on human rights and the Vienna Convention on diplomatic relations.
Barroso also stated that the immediate ejection of the Venezuelan diplomats in the midst of the coronavirus pandemic would run counter to humanitarian principles.
The Brazilian president criticized the injunction sought by Workers Party's lawmaker Paulo Pimenta and said in a Twitter post later that he had decided on the "compulsory withdrawal of Venezuelan diplomatic corps."
"This lawmaker is a staunch defender of the Chavez/Maduro regime," Bolsonaro tweeted, referring to Venezuela's late leftist leader Hugo Chavez and his successor President Nicolas Maduro.
The Brazilian president had ordered some 30 Venezuelan diplomats and consular staffers to leave his country by May 2.
Brazil withdrew the remainder of its diplomats from Caracas on April 17 and the Bolsonaro's government had expected Venezuela to follow suit by Saturday, citing a verbal agreement on a reciprocal move to close each countries' missions, according to Brazilian officials.
The government in Caracas underlined in a statement on Thursday that there had been no such negotiation and its diplomats would stay put, with Venezuelan Foreign Minister Jorge Arreaza saying Brazil was violating international law by forcing its diplomatic personnel to leave.
The far-right Brazilian president — who has been nicknamed the "Trump of the Tropics" and is known as an admirer of his American counterpart — followed Washington in recognizing Venezuela's opposition figure Juan Guaido as the country's leader last year.
Guaido is blamed for a political crisis in Venezuela when he unilaterally declared himself "interim president" of the country in January last year, rejecting the outcome of the May 2018 election, which Maduro had won.
Guaido later launched an abortive coup against the elected government.
His self-proclamation as president and his coup received backing from Washington, which has since been carrying out a pressure campaign against Maduro's government and has urged the Venezuelan armed forces to turn against him.
The US administration, which has imposed several rounds of sanctions on the country, has also confiscated the country's state oil assets based in the US in order to channel them to Guaido.
The US and another of its allies in the region had already shut down their embassies in Caracas, expelled Maduro's diplomats, and accepted envoys aligned with Guaido as ambassadors.
But European countries have continued to host Maduro officials and maintained a diplomatic presence in the country.