Europe
Middle East
Syria
Britain, EU seeking to ease pressure on terrorists operating in Dara'a: Syrian official
An official from the Syrian Ministry of Foreign Affairs and Expatriates has condemned Britain and the European Union (EU) for their incitement and hypocrisy campaigns concerning developments in the southwestern province of Dara'a, describing them as futile attempts to ease pressure on terrorists operating in the region.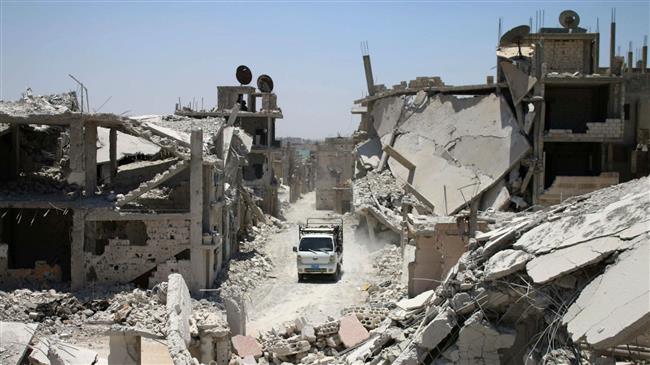 "The Syrian Arab Republic slams incitement and hypocrisy campaigns undertaken by the British government and the EU regarding the situation in Dara'a province. Such bids fall within the framework of their known hostile policy towards Syria and support for terrorism," Syria's official news agency SANA quoted the unnamed official as saying in a statement.
The official highlighted that the Damascus government is determined to resolve conflict in the southern part of Syria through negotiations rather than a military offensive.
Terrorist groups, however, do not commit themselves to any agreement and tend to escalate tensions in the region as ordered by their sponsors, he added.
The European Union and Britain have separately called for an end to Syrian government forces' operation in Dara'a province, where the army soldiers have been fiercely fighting foreign-sponsored Takfiri terrorists for over a week.
EU foreign policy chief Josep Borrell alleged in a statement that southwest Syria is seeing "the worst and deadliest violence" since 2018.
"Such campaigns of lies and fabrications would not affect Syria's determination to combat terrorism, liberate swaths of land still controlled by terrorists, and restore security and stability across the country," the Syrian official pointed out.
Fighting between Syrian government forces and Takfiri terrorists has intensified near Dera'a city.
The pro-government al-Watan newspaper reported that the army troops are conducting "a military operation against hideouts of terrorists who thwarted a reconciliation deal."
The government forces are reportedly pounding the militant bastion of Dera'a al-Balad, a southern district of Dera'a city, in tandem with a ground push.
Syrian army and allied forces recaptured Dara'a from terrorists in 2018.
State institutions have returned, but the army still hasn't deployed across the whole province.
The establishment of full government control over Dara'a is highly important because it borders the occupied Golan Heights which Israel has used to treat wounded terrorists fighting against the Syrian government since 2011.
The territory's return to Syrian government control could cut the much-reported collaboration between Israel and the militants and accordingly deal a blow to Tel Aviv's plans to annex the Golan Heights.