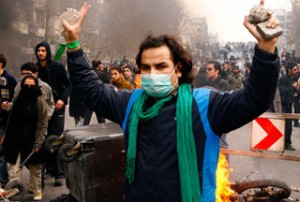 British Foreign Secretary David Miliband on Monday hailed the "great courage" of pro-opposition supporters who took part in illegal protests in Tehran one day earlier, during which several people were killed and public property was damaged.
In a statement in London, Miliband condemned the crackdown on the protesters, saying it was "particularly disturbing" as it happened during the holiest event for Shia Muslims, Ashura — which commemorates the 7th century martyrdom of Prophet Muhammad's (PBUH) grandson, Imam Hussein (PBUH).
At least eight people, according to Tehran's police headquarters, were killed in the protests which resulted in clashes between security forces and the demonstrators. Police say the force neither used violence nor shot a single bullet during the crackdown.
Miliband, however, attributed the deaths to the Islamic Republic, saying they were "yet another reminder of how the Iranian regime deals with protest."
"It is therefore particularly disturbing to hear accounts of the lack of restraint by the security forces," he said, while calling on Tehran to honor its commitment to respect the rights of its citizens, AFP reported.
During the Sunday riots, many residential buildings, vehicles, shops, banks and power stations were set on fire.
Iran blames Western countries, in particular Britain, for the unrest that has erupted since the June 12 election. A number of foreign elements have since been rounded up and put on trial by the Iranian government.
The British foreign secretary, meanwhile, expressed support for the Iranian anti-government protesters, saying they were showing "great courage."