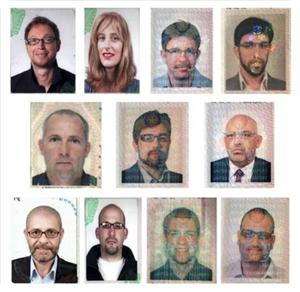 Britain and Ireland will ask the Zionist entity on Thursday to explain why six alleged members of a hit squad that killed a Hamas commander in Dubai last month entered the emirate with false UK and Irish passports.
The London-based newspaper The Guardian said the Zionist ambassador will be called in to the Foreign Office on Thursday to "share information" about the use of identities stolen from six [UK] citizens living in the Zionist entity who deny involvement in the assassination of former Hamas commander Mahmoud Al-Mabhouh last month.
British Prime Minister Gordon Brown has also launched a "full investigation" into the use of British passports that will be led by the Serious Organized Crime Agency (SOCA), according to the report.
"The British passport is an important part of being British and we have to make sure everything is done to protect it," the prime minister reportedly said.
Al-Mabhouh was found dead in a Dubai hotel on 20 January. On Monday police in the emirate released the names and European passport information of 11 alleged assassins, along with CCTV footage of the hit squad entering and exiting the hotel. Police said Al-Mabhouh was suffocated to death.