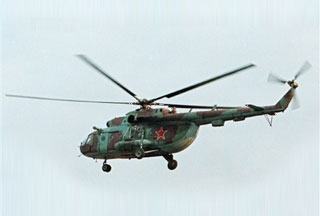 In another setback for British forces stationed in Afghanistan, Taliban insurgents have destroyed a British military helicopter in the troubled south of the country.
The Chinook helicopter made an emergency landing after an "engine fire" in the conflict-torn Helmand province late Wednesday.
While announcing the incident, the British Ministry of Defense (MoD) said Thursday that the downing could have been due to "enemy action".
The chopper crew has escaped without injury. The aircraft, however, was "deliberately destroyed by a coalition airstrike to deny it from enemy forces," according to the ministry.
The incident happened during the night ahead of the Thursday presidential election that was marred by a surge of violence in the war-ravaged country.
Insurgents have shot down many helicopters belonging to US-led forces in the troubled eastern and southern provinces of Afghanistan over the past months.
The loss of helicopters has thrown the issue into the public eye in Britain with critics charging that London has failed to provide adequate equipment to the troops. The British government is also accused of lacking a clear strategy in Afghanistan.
British Premier Gordon Brown has acknowledged that the rising number of British casualties has raised questions about the purpose of the mission.
Britain has the highest number of troops in Afghanistan after the United States.