Europe
Britain raises terror threat level after London bomb attack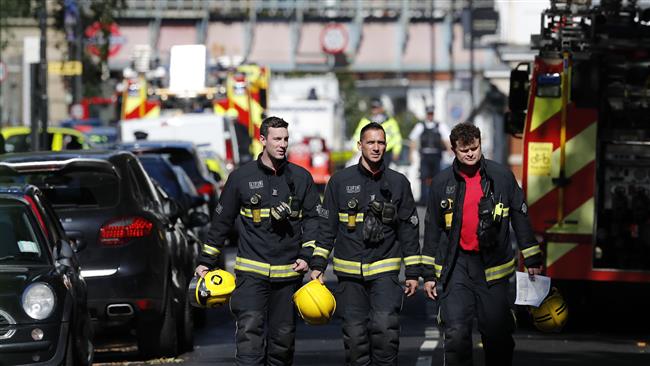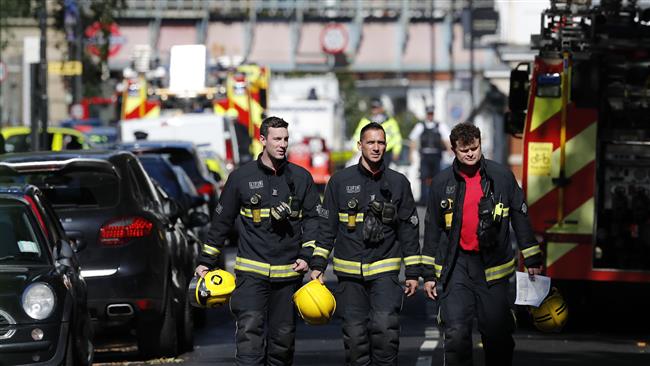 Britain has raised its national threat level to maximum after a bomb exploded on a crowded London Underground train during the morning rush hour, injuring at least 29 people.
British Prime Minister Theresa May announced on Friday that military troops would replace police officers "on guard duties at certain protected sites which are not accessible to the public".
The terror threat has been raised from "severe" to "critical", meaning another terrorist attack is expected imminently.
"The public will see more armed police on the transport network and on our streets, providing extra protection," May said.
"This is a proportionate and sensible step which will provide extra reassurance and protection while the investigation progresses," she added.
Earlier, the Metropolitan Police said in a statement that British authorities were treating the explosion at the Parsons Green metro station as a "terrorist incident."
Witnesses saw a "wall of fire" and injured passengers with facial burns at Parsons Green station in west London after the explosion.
"At 8:20 this morning at Parsons Green station there was an explosion on a Tube train. We now assess that this was a detonation of an improvised explosive device," police counter-terror chief Mark Rowley said.
He added said most of the people were injured with "flash burns", while others were hurt by the stampede when passengers panicked after the incident.
'Suspect identified'
British security services said they have identified a suspect involved in the bombing with the help of surveillance footage, Sky News reported.
"Security sources say they've identified a suspect involved in the Parsons Green bombing, with the aid of CCTV footage," said Mark White, a home affairs correspondent for Sky News.
Meanwhile, Daesh claimed responsibility for the bomb attack, the terrorist group's Amaq news agency said.
'Manhunt underway' 
The mayor of London, Sadiq Khan, said that there "is a manhunt underway." He said he was not allowed to say whether that meant a specific suspect was being sought.
Khan said earlier the city "utterly condemns the hideous individuals who attempt to use terror to harm us and destroy our way of life," and called on Londoners to remain calm and vigilant.
Transport for London confirmed that Parsons Green station has been closed and there was no service between Earls Court and Wimbledon on the District Line which runs through Parsons Green.
One witness reported seeing "a flash and a bang" in a bag holding the container, which is said to have had wires coming from it, on the packed rush-hour carriage.
"We were called at 8:20 a.m. to reports of an incident at Parsons Green underground station," said Natasha Wills, assistant director of operations at London Ambulance Service.
"We have sent multiple resources to the scene including single responders in cars, ambulance crews, incident response officers and our hazardous area response team, with the first of our medics arriving in under five minutes."
"There was panic as people rushed from the train, hearing what appeared to be an explosion," said BBC London presenter Riz Lateef, who was at Parsons Green on her way in to work.
"People were left with cuts and grazes from trying to flee the scene. There was lots of panic."
"Suddenly there was panic, lots of people shouting, screaming, lots of screaming," said technology consultant Richard Aylmer-Hall, who was sitting on the "packed" District Line train.
"I saw crying women, there was lots of shouting and screaming, there was a bit of a crush on the stairs going down to the streets," he said.
The incident comes after a series of terror attacks that have rocked Britain this year, killing dozens of people and injuring hundreds, putting the capital on high alert.
The prime minister said she will chair a meeting of Britain's emergency response committee later on Friday.
"My thoughts are with those injured at Parsons Green and the emergency services who, once again, are responding swiftly and bravely to a suspected terrorist incident," May said in the statement.
British Foreign Secretary and former London mayor Boris Johnson appealed for calm. "I'm afraid my information is limited and it really is important not to speculate at the moment," he told Sky News.