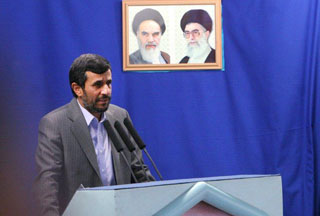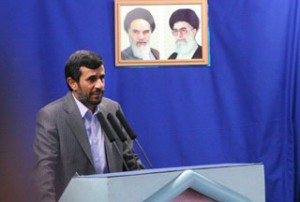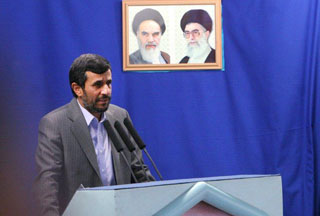 Iranian President Mahmoud Ahmadinejad says that Britain's foreign secretary had predicted the demise of the Iranian state in the aftermath of the June presidential election.
"One of the foreign ministers of friendly countries told us that when I asked the Old Colonialism's (United Kingdom) foreign secretary why they interfered in Iran's affairs, he answered that 'this time the time was up for the Islamic Republic system, and this time we have worked out everything'," Ahmadinejad said Friday.
"The whole world knows that in Iran, elections are fundamental maters, and, contrary to common democracies of the world, they are not a sham or previously arranged, but, with the presence and supervision of the people," he added. "It is a necessity for the continuation of the revolutionary and Islamic values."
"This election shattered the enemies' plots and revealed their plans, and well illustrated the firmness of the system," said Ahmadinejad, who is embarking on his second four-year term.
He went on to say that the hope of the enemy "was to direct and steer to victory, [their plans] to finish off Iran, in the same way that they could in other places, through color revolutions, with money, various media and expertise."
"But, during the election, our nation slapped their faces in such a way, that, after more than two months since the election, they are still dizzy, and have lost their way home," Ahmadinejad exclaimed.
Iran has blamed foreign elements for the unrest that followed the presidential election in June.