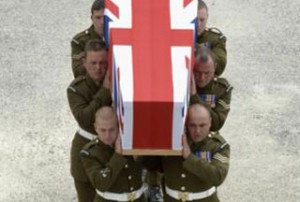 With the death of the 256th British soldier in Afghanistan, the toll from the conflict has surpassed the number killed in the 1982 Falklands war, defense officials say.
A British bomb disposal expert from the 36th Engineering Regiment was killed in a blast Monday morning while clearing a route in Helmand province in Nad-e-Ali district.
Since 2001, 256 British service personnel have been killed in the Afghan war, more than the 255 Britons killed in the Falklands.
In the war in Afghanistan, many of the US-led foreign troops' casualties are caused by improvised explosive devices (IEDs) — the Afghan militants' weapon of choice.
The death toll equaled the Falklands figure on Sunday when two British soldiers on foot patrol were killed in Sangin in Helmand province.