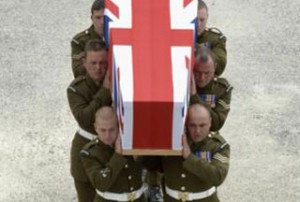 A British soldier has been killed in southern Afghanistan, bringing the total number of UK soldiers killed in the country to 241.
The soldier from the Royal Military Police was shot dead in the Sangin area, in central Helmand province, the UK's Ministry of Defense confirmed on Monday.
The ministry added in a later statement that "there is a possibility that the latest death in Afghanistan was caused as a result of friendly fire." An investigation has been launched into the incident, the statement said.
The death marks the second British soldier to be killed over this weekend.
This year has been the deadliest for the British troops since the 1982 Falklands War, in which a total of 104 British soldiers were killed.
The rising British casualty has severely reduced British public support for the war in Afghanistan.