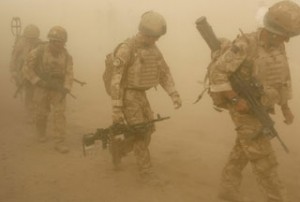 A new Poll shows the majority of Britons have lost their confidence in the UK's involvement in the Afghan war, urging the troops' immediate withdrawal.
Britain's mission in Afghanistan has never had massive public support but with the death of 22 British soldiers over the past few weeks, it is now becoming even more unpopular.
A recent survey conducted by ComRes for the Independent suggests a growing opposition to Britain's military involvement in Afghanistan, with 58 percent of Britons considering the war "unwinnable."
They believe the Taliban cannot be defeated militarily and that British troops should be pulled out immediately.
The survey has also found that 60 percent of the respondents oppose the government's plans to send additional troops and resources to Afghanistan.
British Defense Secretary Bob Ainsworth said on Friday that 125 British service personnel are to be deployed to the war-torn country to replace troops who have died.
Only 35 per cent of Britons are in favor of sending reinforcements for their troops in Afghanistan, who are believed to lack the equipment they require to perform their role safely.
An earlier survey conducted by the Canadian-based Angus Reid Research Center revealed that 53 percent of Britons oppose their country's military involvement in Afghanistan, saying that they cannot understand why the UK has invaded or occupied a sovereign country.
Public calls for an end to Britain's mission in Afghanistan strengthened after British fatalities in Afghanistan exceeded that of their forces during the Iraqi occupation.
Since the 2001 US-led invasion, a total of 191 British servicemen and women have died in Afghanistan.
However, the main victims in war-ravaged country are Afghan civilians who are killed by both insurgents' attacks including bomb blasts and by the coalition forces' counterinsurgent activities including indiscriminate blitz against suspected militant hideouts.