Egypt
Brotherhood figures sentenced to death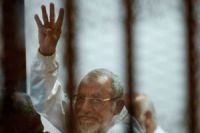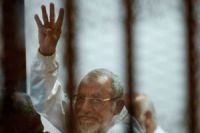 An Egyptian court has sentenced a number of top Muslim Brotherhood leaders including the MB's spiritual leader Mohamed Badie to death.
According to Press TV, Badie was among 3 other senior members of the now outlawed party including Mohamed Beltagy and cleric Safwat Hegazi, who were on Thursday sentenced to death along with 11 others.
The court charged them with inciting murder and being involved in the alleged killing of protesters outside the Brotherhood's Cairo headquarters last year.
The court will convene another meeting on August 3 to issue a final ruling. The sentences will be carried out when approved by the country's Grand Mufti.
Hundreds of supporters of ousted president Mohamed Morsi, who was toppled by a military coup in July, including Badie himself have already been sentenced to death in speedy mass trials that have sparked international outrage.
In April, another court in the central city of Minya sentenced Badie, who is being tried in some 40 cases, and around 700 alleged Morsi supporters to death over the murder and attempted murder of policemen.
Badie and his co-defendants have been convicted for inciting violence that left 10 people dead in July 2013 in the Giza neighbourhood. It happened days after president Morsi's ouster on July 3.