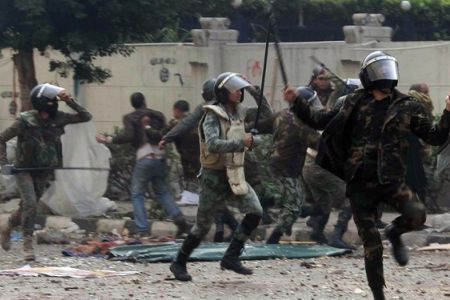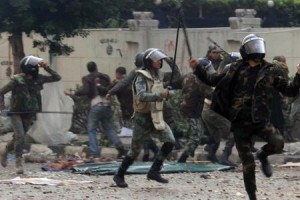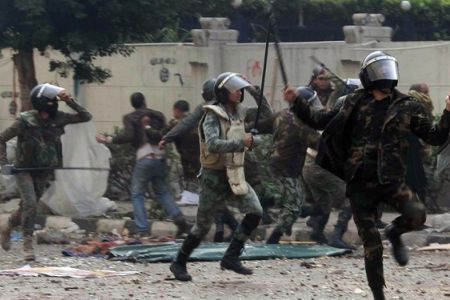 Egyptian military police have stormed a makeshift hospital near Cairo's Liberation Square, burning medical supplies and detaining doctors for helping protesters.
The regime's army forces surrounded the makeshift hospital on Saturday and threatened doctors to leave the site, as Egyptian military rulers intensify a crackdown on protesters demanding an end to the military rule in the country.
The Tahrir Doctors Organization said the military police have held captive 15 doctors and nine injured protesters inside a mosque that houses the makeshift hospital, not allowing them to leave the premises.
Some of the wounded are reportedly in serious condition.
Government forces also burned down medical supplies and arrested a number of wounded protesters outside the hospital.
The organization says several more doctors have been arrested in other field hospitals.
Makeshift hospitals have been set up in public spaces and mosques across Cairo to treat those injured in the ongoing violence in the city.
The recent clashes originally erupted Thursday evening after the police beat up a young man participating in a sit-in protest outside the cabinet building.
Hundreds of people then poured onto the streets in support of the protesters demanding an end to the military rule.
The military police threw rocks at protesters and used water cannon to disperse them. The police force also torched protester tents overnight. Over 10 protesters have been killed and hundreds wounded since Thursday.
Egyptian protesters want the Supreme Council of Armed Forces (SCAF), which took over power in Egypt after the February revolution, to hand over power to a civilian government.
The protesters say the SCAF has continued with the old ruthless practices of the decades-long regime of ousted dictator Hosni Mubarak.