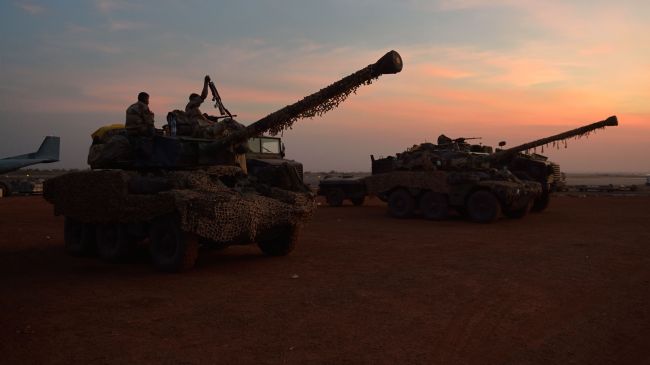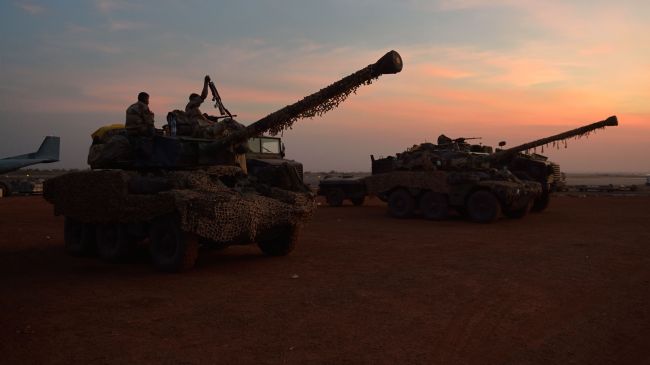 French fighter jets and helicopter gunships continue pounding areas controlled by the fighters in Mali as more people are killed and hundreds of thousands get displaced.
A military source said on condition of anonymity on Monday that French and Malian troops are advancing toward the western town of Diabaly, which was bombarded earlier.
The source added that the joint military forces, along with a convoy of armored vehicles, began the war against the fighters from the town of Niono, 60 kilometers (37 miles) south of Diabaly, on Monday.
The French army also announced that its fighter planes and helicopter gunships hit "terrorist vehicles" in six out of a dozen strikes over the last 24 hours.
French Defense Minister Jean-Yves Le Drian on Sunday rejected reports that French and Mali soldiers regained control of Diabaly.
Le Drian also stressed that the war in Mali seeks a total conquest of the West African country.
On Saturday, the minister said that the number of French troops on the ground in the West African country could top the initially-planned number of 2,500.
On January 11, France launched a war under the pretext of halting the advance of the fighters in Mali. However, few images of the conflict have come out of the African country. The French military has imposed a media blackout on the fighting in the resource-rich nation.
The United States, Canada, Britain, Belgium, Germany, and Denmark have already said they would support the French war in Mali.
The Economic Community of West African States (ECOWAS) has also pledged to support the French war by sending 5,800 soldiers to Mali.
Some analysts believe that Mali's abandoned natural resources, including gold and uranium reserves, could be one of the reasons behind the French war on the country.
The United Nations Refugee Agency (UNHCR) says it was preparing for around 700,000 people to flee the violence in Mali.