Asia-Pacific
Myanmar
Brutal Myanmar army shells Rohingya village, kills two women
Myanmar troops have shelled a Rohingya village, killing two women, one pregnant, and injuring seven people, only two days after the UN's highest court ordered the country to protect the minority.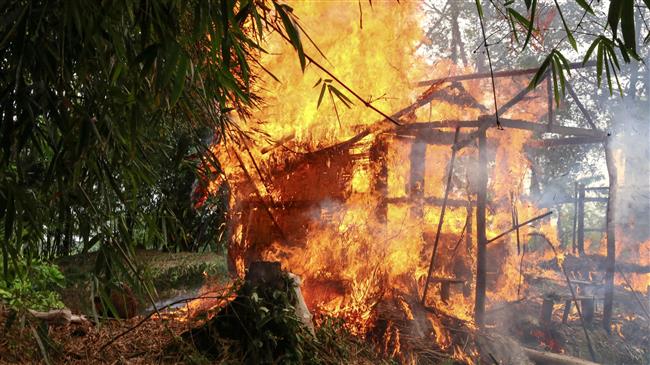 Kin Taung village came under attack on Saturday after shells were fired from a nearby battalion, according to Maung Kyaw Zan, a national member of parliament for Buthidaung Township in northern Rakhine state.
"There was no fighting, they just shot artillery to a village without a battle" in the middle of the night, Zan told Reuters.
On Thursday, the Hague-based International Court of Justice ordered Myanmar to protect the Rohingya against further atrocities and preserve evidence of alleged crimes.
Top UN court orders Myanmar to protect Rohingya from acts of genocideThe International Court of Justice has ordered Myanmar to take urgent measures to protect its Rohingya Muslim population from atrocities.
Meanwhile, the military denied it carried out the shelling, blaming the rebels who they said attacked a bridge in the early hours of the morning.
Conflicts and clashes between government troops and the Arakan Army (AA), a Buddhist rebel group trying to gain greater autonomy for Rakhine, have added a new dimension to the troubles in Rakhine.
In the Saturday attack, two houses were also destroyed, according to a Rohingya villager.
"The military always shoots heavy weapons… They shoot heavy weapons around the area they suspect. It is impossible to flee to other places, even though we are scared," Soe Tun Oo told Reuters.
Rakhine has been the scene of an organized deadly crackdown on Muslims by Myanmar's army and Buddhist mobs since 2012. Thousands were killed and some 800,000 Rohingya Muslims fled to neighboring Bangladesh, where they currently live in camps in dire conditions.
100,000 Rohyngyas refugees to move to flood-prone island in BangladeshBangladesh is to accommodate 100,000 Rohingya Muslim refugees on a flood-prone island, while currently living in irregular, unsanitary, and crowded camps.
Rohingya Muslims, who have lived in Myanmar for generations, are denied citizenship and branded illegal migrants from Bangladesh, which likewise denies them citizenship.
The United Nations has already described the Rohingya as the most persecuted community in the world.