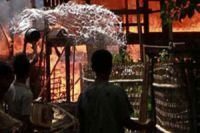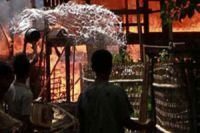 Brutal Myanmar security forces and Buddhist extremists are torching Rohingya Muslims' houses in the Rakhin state.
In addition to setting ablaze the Muslims' houses, the country's security forces and government-backed Buddhists have also set several mosques on fire.
According to Press TV, the Rohingyas have been forcefully accommodated in government camps where they face dire conditions and lack of medical supplies.
The report comes amid heavy military presence in the Rakhine's capital, Sittwe, and imposition of a curfew in the volatile region.
Over the past weeks, protests in support of the Rohingya have been held in countries such as Pakistan, Malaysia, and Iran.