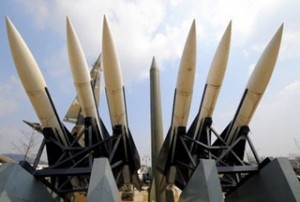 The Bulgarian Foreign Ministry says that it has never held formal negotiations with NATO about participating in the planned US missile system in Europe.
The comments come in response to a Russian diplomatic note, demanding clarification with regards to the issue.
On February 18, Russian Foreign Ministry spokesperson Andrei Nesterenko said that Moscow was "confused" by what he described as contradictions in Bulgaria's statements about the missile system.
Also Last week, the US ambassador to Sofia was quoted as saying that Bulgaria could be included in the missile system.
However, On February 19, the Foreign Ministry said in Sofia that in response to a note received that day from the Russian embassy, and in the spirit of transparency in bilateral relations, the" ministry had affirmed that there had been no formal negotiations about deploying elements of missile defense in Bulgaria."
Earlier in February, Bulgarian Prime Minister Boyko Borisov had said that he favored Sofia's participation in the system if it was also approved by the European Union.
The Bulgarian premier's comments on favoring the plan have been met with strong opposition from Moscow, which considers US missile plans in Europe as a security threat.