World News
Burkina's Protesters Set Parliament Ablaze, Toppled President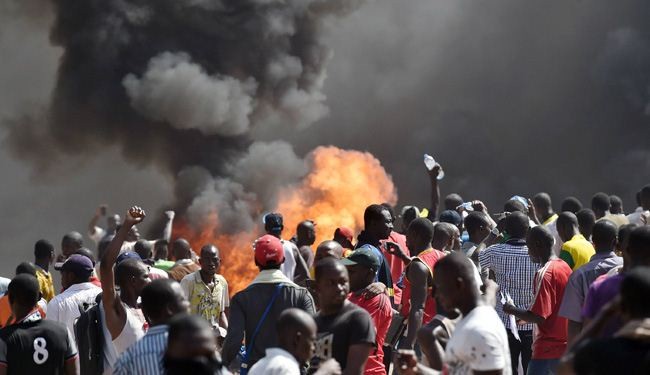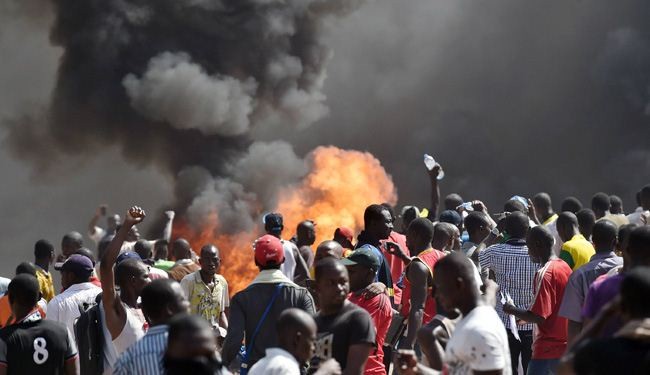 Burkina Faso's Protesters set fire to parliament in challenge to leader's 27-year rule and some hours later army took power and toppled president.
The president of Burkina Faso has declared a state of emergency following violent protests in the capital, hours after demonstrators stormed the parliament building and set fire to its main chamber, AP reported.
Later Burkina Faso's President Blaise Compaore was toppled as the army took power after protesters set parliament ablaze in a popular uprising against the veteran leader's 27-year-rule.
Later in the day, the military dissolved all government institutions and set a curfew.
It was not immediately clear where President Blaise Compaore was, nor what restrictions were being imposed as a result of the state of emergency.
The protesters were angered by a parliamentary vote that they thought was going to give Compaore, who has been in power for 27 years, the chance to run for a fifth term next year.The vote did not take place but that did little to calm tensions.
Yesterday some protesters took over the national TV.Ouagadougou International Airport was closed and MPs suspended the vote on changing the constitution to allow Mr Compaore to stand for re-election in 2015.
Retired General Kouame Lougue, a former defence minister being touted by the opposition as a replacement for toppled Burkina Faso President Blaise Compaore.
Retired General Kouame Lougue
Police had fired tear gas on protesters to try to prevent them from moving in on the National Assembly building in the capital Ouagadougou ahead of a vote on the controversial legislation.
But about 1,500 people managed to break through the security cordon and were ransacking parliament, according to AFP correspondents. Protesters ransacked offices, setting fire to documents and stealing computer equipment, and set fire to cars outside.
Crowds also attacked the homes of government ministers and looted shops in the country's second-largest city, Bobo Dioulasso.
Burkina Faso, also known by its short-form name Burkina, is a landlocked country in West Africa around 274,200 square kilometres (105,900 sq mi) in size. It is surrounded by six countries: Mali to the north; Niger to the east; Benin to the southeast; Togo and Ghana to the south; and Ivory Coast to the southwest. Its capital is Ouagadougou. As of 2014, its population is estimated at just over 17.3 million.
Demonstrationbegan on 28 October, 2014 to march and demonstrate in Ouagadougou again President Blaise Compaore who appeared ready to amend the constitution to extend his 27-year-rule.