Palestine
Butcher netanyahu "Ready to Extend Gaza Truce"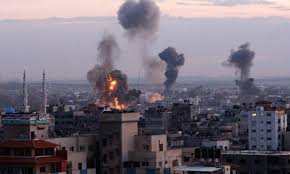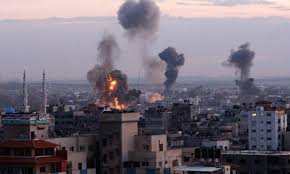 The Zionist entity had indicated Wednesday it was prepared to extend a 72-hour ceasefire with Hamas unconditionally in the Gaza Strip as Egyptian mediators reportedly accelerated efforts to broker a longer-term truce.
GazaWith the truce due to expire at 0500 GMT on Friday morning, Egyptian mediators shuttled between Israeli and Palestinian delegations in Cairo, conveying conflicting demands for a long-term calm.
"Israel has no problem extending the ceasefire unconditionally," an Israeli official told Agence France Presse on condition of anonymity. There was no immediate reaction from Hamas.
A spokeswoman for the Zionist army confirmed earlier that 27,000 reservists called up for the conflict had been sent home, leaving a force of 55,000 still on active duty, in another sign of growing hopes for long-term quiet.
In the battered Gaza Strip, shops, banks and markets have reopened, and people crowded into the streets. Emergency services cleared rubble and searched for bodies in worst-hit areas, among them Tuffah and Shejaiya near Gaza City, Khuzaa and an area east of Rafah on the southern border with Egypt.
In the southern town of Rafah, volunteers dug graves for the burial of martyrs stacked in morgues while the fighting raged.
Israeli Prime Minister Benjamin Netanyahu launched a vigorous defense of the aggression in the face of international criticism over heavy Palestinian civilian casualties.
"I think it was justified. I think it was proportionate and that doesn't in any way take away the deep regret we have for the loss of a single civilian casualty," Netanyahu said in his first public remarks since the ceasefire came into effect. "Every civilian casualty is a tragedy, a tragedy of Hamas's own making," he added.
Egyptian officials mediating talks for a durable truce in Gaza met a Palestinian delegation to relay terms laid down by an Israeli team overnight, Palestinian officials said.
Hamas officials have publicly rejected an Israeli demand for Gaza to disarm.
Ismail Haniya, Hamas's top Gaza-based official, was defiant ahead of the talks, saying the Palestinian side would "not yield on any of our demands."
The Palestinians have insisted Israel end its eight-year blockade of Gaza and free scores of Hamas prisoners.
'Israel' has refused to deal with a Palestinian unity government that emerged after Hamas signed a deal with Palestinian president Mahmoud Abbas in April following years of bitter rivalry.
But Netanyahu said Israel was cooperating with the Abbas-led Palestinian Authority.
In a BBC interview, U.S. Secretary of State John Kerry said there would have to be compromise on both sides in order to obtain a permanent ceasefire.
"How are we going to eliminate these rockets? How are we going to demilitarize and move towards a different future?" he asked.
Netanyahu said he spoke to Kerry on Wednesday by telephone and welcomed Kerry's remarks calling for the demilitarization of Gaza. He also sought to counter reports that Israeli-U.S. relations took a knock over the offensive, following tough criticism in Washington over civilian casualties.
"We work very closely with him (Kerry), with the U.S. administration with President (Barack) Obama throughout this operation and before," he said.