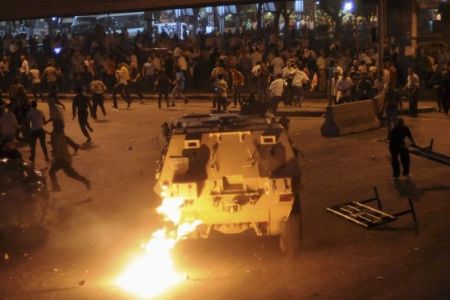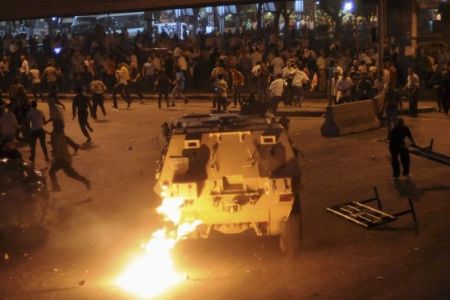 Egyptian military authorities impose a curfew on parts of the country's capital after clashes between protesting Coptic Christians and military forces killed at least two dozen people.
State TV announced that the night-time curfew, imposed on Monday on Cairo's Tahrir (Liberation) Square as well as the downtown area, would last from 02:00 to 07:00 am (local time), Reuters reported.
The angry demonstrators were rallying against the ruling Supreme Council of the Armed Forces (SCAF). Their major demand was that the military rulers rebuild a church in southern Egypt that was allegedly torched in October.
More than 200 people were also injured during the confrontation.
The casualties were caused after the forces started firing live rounds at the protesters outside the TV's building in the Maspero district.
At least three soldiers were among the fatalities from the clashes, which also saw a number of Army vehicles being set on fire.
The Egyptian military claims that the protesters were armed with deadly weapons.
Prime Minister, Essam Sharaf, meanwhile, said, "What is taking place are not clashes between Muslims and Christians but attempts to provoke chaos and dissent."
Skirmishes have also erupted between government forces and protesters near the hospital in Cairo, where the wounded from the deadly clashes were being treated.
The Coptic Christian minority makes up about 10 percent of Egypt's population.
At least 846 people were killed during Egypt's February revolution, which led to the ouster of the country's former dictator Hosni Mubarak's regime.
The SCAF has refused to hold presidential election within six months of the revolution as it had promised. The military rulers are also yet to determine a clear timetable for transfer of power to a civilian government.
The Egyptians have, meanwhile, started taking to the streets again, saying the public needed to 'reclaim the revolution.