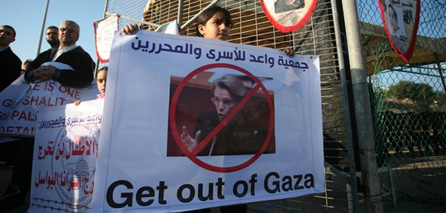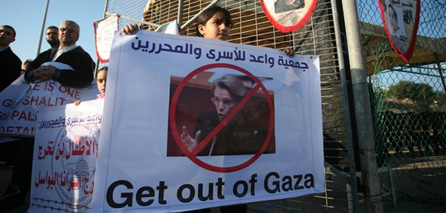 Palestinian captives' families in the Gaza Strip came out in protest, throwing eggs and in some cases, shoes, as the French Foreign Minister Michel Alliot-Marie and her entourage visited the besieged region on Friday morning.
Dozens of families who have their loved ones imprisoned unlawfully in Israeli prisons, expressed their anger and dismay at statements attributed to her openly supporting Gilad Shalit's campaign. Alliot-Marie's comments came during a meeting on Thursday afternoon where she is reported to have called on the European Union to condemn Hamas for the continued imprisonment of Gilad Shalit, which she described as a "war crime". Sources report that she was misquoted by the Israeli Arabic-language radio.
Protestors held "Get out of Gaza" signs and tried to block the convoy as it travelled through the Strip.
Hamas spokesman Sami Abu Zuhri considered remarks the French FM was alleged to have made during her meeting with Shalit's family said that the FM's remarks reflect bias to the Israeli occupation adding that Shalit was captured from the battlefield while thousands of Palestinians who are languishing in occupation jails have been kidnapped from the midst of their families.