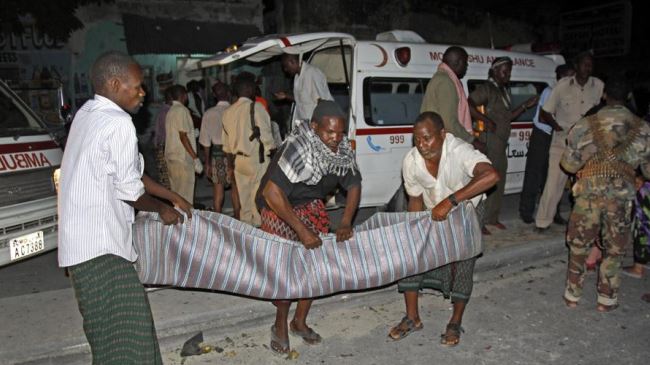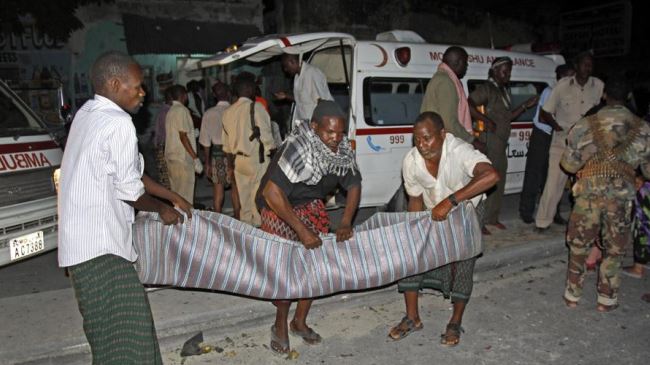 A car bomb blast has killed at least 11 people in the Somali capital, Mogadishu.
The explosion hit the popular Aroma café in Mogadishu on Sunday, said Mohammed Hussein, a police official.
According to reports, at least ten others were injured in the attack. Some sources put the number of the wounded at about 15.
Most of the victims were sitting outside the café when the bomb detonated.
No one has yet claimed responsibility for the bombing, but al-Shabab fighters have been blamed for the blast.
The group has pledged to revenge for the death of its former leader, Ahmed Abdi Godane, who was killed in a US drone strike on September 1.
According to Somali officials, the attack was carried out in a forest near Sablale district, 105 miles (170 kilometers) south of Mogadishu.
The US carries out targeted killings through drone strikes in several Muslim countries such as Yemen, Pakistan, Afghanistan and Somalia.
Washington claims the targets of the drone attacks are militants, but local officials and witnesses maintain that civilians have been the main victims of the attacks.
Following Godane's death, al-Shabab appointed Sheikh Ahmed Umar Abu Ubaida as its new leader.
This comes as the Somali government reportedly offered an amnesty to the fighters on September 3.
The proposal gave 45 days to the fighters to surrender and be reintegrated into the society.
Over 500 fighters have so far surrendered to the authorities, according to the government spokesman, Ridwan Abdiweli.
Somalia has been the scene of clashes between government forces and al-Shabab fighters since 2006.
The country did not have an effective central government from 1991 to August 2012. In September 2012, Somali lawmakers elected Hassan Sheikh Mohamud as the new president of the country.