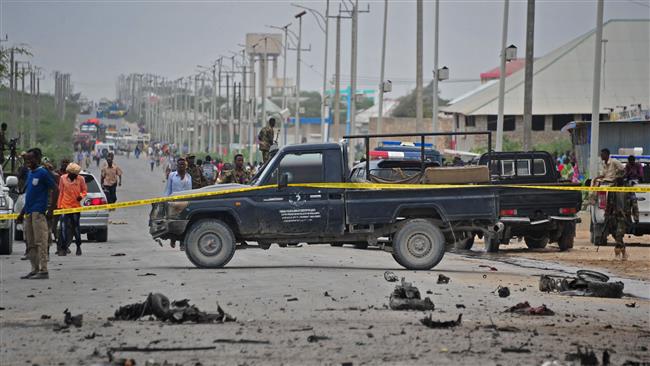 A Somali government official has been killed in a car bomb explosion in the capital, Mogadishu, officials say.
"The car bomb killed a junior government worker," said Abdifatah Omar Halane, a spokesman for Mogadishu's mayor on Monday.
No group has yet claimed responsibility for the attack, but the al-Shabab militant group has stepped up its deadly bombings in Somalia's capital since a new president took office in the country in February.
President Mohamed Abdullahi Mohamed declared a "new offensive against terrorist groups" on Thursday. He gave militants a 60-day deadline to lay down their arms and surrender.
He also replaced military and intelligence chiefs, the country's police chief, and Mogadishu's mayor in an attempt to improve the worsening security situation in the long-chaotic Horn of Africa country.
The al-Shabab group was forced out of the capital by African Union troops in 2011 but still controls parts of the countryside and carries out attacks against government, military, and civilian targets in Mogadishu and elsewhere.
Separately, an assailant entered a military camp in the south of the capital and fired at soldiers before blowing himself up. He killed at least three soldiers and injured several others.
The assailant had been "disguised as a member of the military" to gain access to the training camp, according to military official Lieutenant Colonel Mohamed Abdirahman.
The camp, which is one of the biggest in the country, was hosting a meeting of military officials when the attack took place.
The al-Shabab claimed responsibility for the attack, claiming that "tens" of people had been killed.