Syria
Car bomb destroyed in Homs, terrorists' gatherings targeted in various areas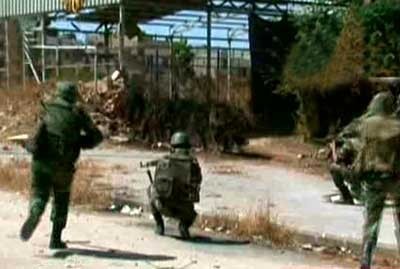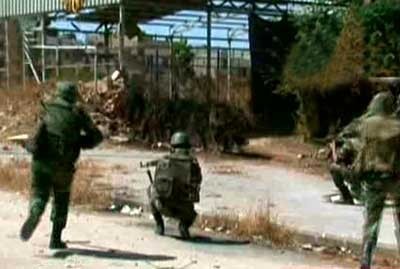 Army operations continued on Thursday during which several terrorists' dens, weapons and equipment were destroyed, including a car bomb in Homs, and many terrorists were killed and injured.
Scores of terrorists killed, 15 anti-tank missiles destroyed in Damascus Countryside
Units of the armed forces carried out a number of special operations in villages and towns of the eastern Ghouta and the northern and southern countryside of Damascus in which they killed many terrorists and destroyed dens and anti-tank missiles.
An official source told SANA reporter that a unit of the armed forces destroyed 15 anti-tank missiles and a den of terrorists on the outskirts of Shabaa town.
Ten terrorists were killed in the operation, including Ahmad al-Mikhlef and Kassem Khudr.
Another army unit killed and injured members of an armed terrorist group in the farms located between the towns of Shabaa amd Deir al-Asafeer. Terrorist Ghaith al-Buqaei was identified among the dead.
SANA reporter quoted the source as saying that a den for an armed terrorist groups was destroyed to the east of Masraba town, along with the weapons and ammunition inside it.
In the meantime, units of the armed forces clashed terrorist groups in the areas between Erbin and Zamalka, killing a number of their members, including Abdo Abdulhadi.
According to the source, an army unit destroyed a den for terrorists in al-Deiriyeh in the city of Douma and killed the terrorists Mohammad Ahmad al-Tunsi and Mohammad al-Mleih.
The army operations in al-Bahariyeh farms in the eastern Ghouta resulted in the destruction of a heavy machine gun and the death of the terrorists Mohammad al-Hallaj and Munir Abd Rabbeh.
In the southern countryside of Damascus, units of the armed forces chased down terrorist groups in the towns of Hujjeira andal-Ziyabiyeh and killed a number of terrorists including Omar Shihab and Mohammad Izraeel. The terrorists' machine guns and rifles were destroyed.
The army units continued operations against the dens of terrorist groups in the farms between Daraya and al-Moadamiyeh, killing many of their members and destroying their weapons and ammunition. Terrorist Khaled Damrani was identified among the dead.
An army unit foiled an attempt by terrorists to detonate 3 explosive devices and seized amounts of weapons and ammunition in the orchards of al-Halaleh in Qatana.
Ten terrorists linked to Jabhat al-Nusra were killed in the towns of Ras al-Ein in Yabroud area, among them Bahjat Mohammad al-Masri and Mohammad Abdul-Rahman al-Khouli were identified.
In Yabroud city, a group of terrorists attacked the Industrial High School as they vandalized the building and furniture and looted its contents, including computers and printers.
A military source said an army unit destroyed terrorist' gatherings and dens and mortars in Adra area. Many terrorists were killed during the operations.
3 rocket launch pads and several mortars destroyed in Aleppo
Units of the armed forces in Aleppo destroyed terrorists' rocket launch pads, mortars and heavy machine guns in a series of operations targeting terrorist groups' dens in several areas in the city and countryside.
SANA reporter quoted a military source as saying that an army unit repelled an armed terrorist group that tried to attack Hanano barracks, leaving all of its members dead and wounded.
The source added that three rocket launch pads and a number of mortars were destroyed in the villages of al-Jadideh, Kweiris and Rasm al-Abboud.
Terrorist groups, the source said, were eliminated in al-Mansoureh and Khan al-Assal, with their weapons destroyed, including heavy machine guns and mortars.
A unit of the armed forces destroyed weapons and ammunition loaded in vehicle on the road linking the villages of Assan and Banan in the southeastern countryside of Aleppo. All the terrorists inside the vehicles were killed.
Scores of terrorists were eliminated in the villages of Hayan and Mayer and in the surrounding of Aleppo Central Prison.
In the city of Aleppo, an army unit clashed with an armed terrorist group that tried to infiltrate Salah-Eddin neighborhood, killing its members and destroying a heavy machine gun mounted on one of their vehicle.
Another army unit confronted a group of terrorists who tried to attack al-Kindi Hospital and killed most of them.
Weapons and bombs seized in terrorists' den in Lattakia city
In another context, the authorities raided a terrorists' den in the neighborhood of Bustan al-Samkeh in the city of Lattakia and seized a number of bombs and explosive devices, in addition to amounts of weapons, ammunition and stolen medical materials.
A military source told SANA reporter that the seized military equipment included 18 hand grenades, 3 silenced pistols, 3 hunting rifles and scores of explosive devices.
Car bomb destroyed, terrorists killed in dens in Homs
An official source told SANA reporter that a unit of the armed forces destroyed a car bomb while the suicide bomber was driving it into Kafrnan village. The bomber was killed along with other terrorists inside the car, but no casualties occurred among citizens.
The source added that a number of gatherings and dens for terrorists were destroyed near a school compound in Taldao and in the areas of Kiseen, Tal Dahab, al-Ghasbiyeh, al-Zara and al-Rastan and some of the farms surrounding it.
An army unit, the source said, killed terrorists and injured others, including a sniper, in al-Qarabis neighborhood and near the National Hospital and al-Salam Mosque in the city.
Other army units clashed with armed terrorist groups in the neighborhoods of Jouret al-Shayah, Wadi al-Sayeh and al-Warsheh in the city, inflicting heavy losses upon their members.
Terrorists killed in Homs
An army unit killed seven terrorists and destroyed their weapons in Akrad al-Dasniyeh in Homs countryside.
An official source told SANA that a den where terrorists used to plot crimes was destroyed in al-Farhaniyeh village in Talbiseh area, killing or injuring all the terrorists inside.