Africa
CAR Muslims face slaughter: UN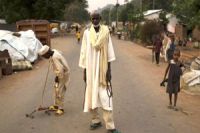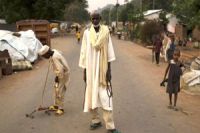 Top UN commissioner for refugees has warned that thousands of Central African Republic Muslims are facing the threat of being slaughtered by anti-balaka Christian militants, calling for an urgent relocation of the religious minority to safer spots.
"We fear for the lives of 19,000 Muslims in those locations," Fatoumata Lejeune-Kaba, spokeswoman of the UN High Commissioner for Refugees, said in a statement obtained by OnIslam.net.
"UNHCR stands ready to assist with their evacuation to safer areas within or outside of the country."
According to the UNCHR, nearly 16,000 had fled Bangui over the past week to escape violence after the Christina militias escalated their attacks against the Muslim community.
The new wave of anti-Muslim violence has increased the number of internally displaced persons in CAR to 637,000, with 207,000 refugees in the capital alone.
Since the eruption of the conflict last December, about 1 million Central Africans were internally displaced inside the republic.
Moreover, more than 82,000 central African Muslims have fled to neighboring countries including Cameroon, the Democratic Republic of Congo, the Republic of Congo and Chad.
The death toll has also climbed to more than 2,000 people, mostly Muslims, including women and children, the refugee agency stated.
Over the past months, anti-balaka Christian militants have raided Muslim homes killing children and women, looting and vandalizing properties.
Along with killing, kidnapping, torture and arbitrary arrest and detention, in the war-torn CAR, a UN investigation found evidences of sexual violence.
In March, the UNHCR had warned that entire Muslim populations from western parts of Central African Republic have been cleansed by Christian militias.