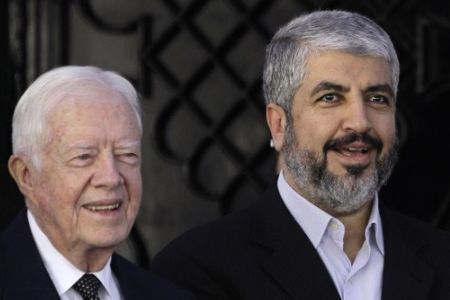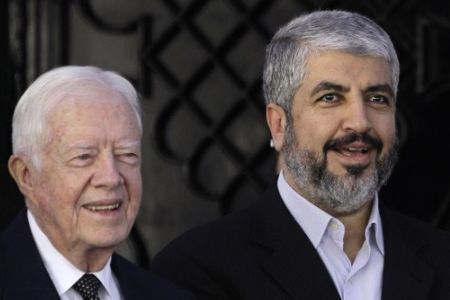 Former US President Jimmy Carter says the resistance movement of Hamas should be part of possible future talks between the Palestinian Authority and Israel.
"We believe that Hamas should be included in all the major efforts to peace … It is part of the Palestinian people," Carter said after visiting Hamas political bureau chief Khaled Meshaal in Syria on Tuesday.
The former president was referring to the latest round of talks between Israeli Premier Benjamin Netanyahu and acting Palestinian Authority Chief Mahmoud Abbas.
The negotiations came to a stalemate after Tel Aviv refused to extend its partial freeze on settlement activities, which expired late September.
Carter also lamented the current situation of Palestinians and said, "1.5 million Palestinians are held in a cage or prison while their human rights are taken away."
"The blockade is one of the most serious human rights violations on earth and it must be lifted fully," he said.
Israel has imposed a crippling blockade on the densely populated Gaza Strip since June 2007 after Hamas won the control of the sliver.
The Abbas-led Palestinian faction of Fatah controls the West Bank.
Carter is a member of an international group of veteran statesmen known as the Elders, chaired by Ireland's former President Mary Robinson.
The delegation, which also includes former Indian parliamentarian Ela Bhatt and former Algerian Foreign Minister Lakhdar Brahimi, are currently visiting the region.