Latin America
Castro: Cuba won't abandon Venezuela despite US blackmail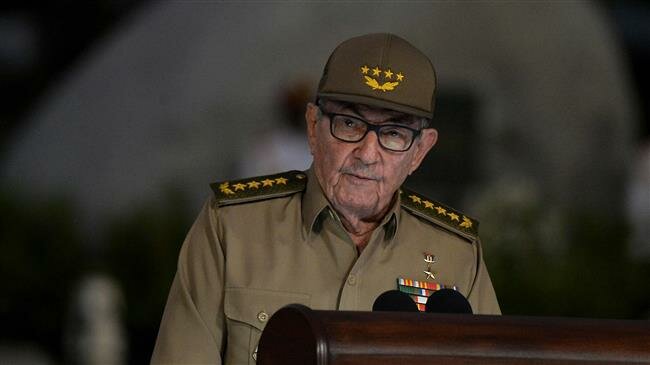 Cuban Communist Party leader Raul Castro says his country will never cease supporting its ally Venezuela under pressure by the United States, which has threatened Havana with more sanctions over its support of the government of Venezuelan President Nicolas Maduro.
The 87-year-old former president of Cuba made the remarks during a speech at the National Assembly of People's Power, the country's parliament, on Wednesday, adding that the island nation had been boosting its defense preparedness in recent months in view of heightened US hostility.
"We will never abandon our duty of acting in solidarity with Venezuela," Castro said. "We reject strongly all types of blackmail," he said at the parliament, where legislators had convened to enact the new Cuban constitution.
"The Venezuelan and Chavista government is writing admirable pages of resistance," he said.
Venezuela has been in political turmoil since US-backed opposition figure Juan Guaido declared himself "interim president" late in January.
The administration of US President Donald Trump, which immediately recognized Guaido's self-proclamation, has repeatedly threatened to use military force to topple Maduro's government. Washington has also been using economic pressure to topple Maduro. It has confiscated Venezuela's US-based oil assets in an attempt to channel revenue from them to Guaido.
Additionally, Washington has been encouraging other countries to impose sanctions on Maduro's administration and ease penalties on the Venezuelan officials who recognize Guaido.
Elsewhere in his comments, Castro told lawmakers that Havana had also been adopting its own economic measures to contend with Washington's tightening of the decades-old US trade embargo against Cuba.
'Cuba is not afraid!'
Separately on Wednesday, US Vice President Mike Pence told the United Nations Security Council that Washington would announce further action against Havana over its support for Maduro. The White House has accused Cuban security and intelligence officials of propping up Maduro's government, an allegation Havana denies.
"Cuba is being blamed for all evils, using lies and the worst kind of Hitlerian propaganda," Castro further said. "We have told the US administration Cuba is not afraid and will continue building the future of the nation without outside interference."
On April 4, US Secretary of State Mike Pompeo announced that the White House had extended by two weeks a ban on US lawsuits against foreign firms conducting business in Cuba, without giving a reason for the move. It was seen, however, as an attempt to punish Havana over its support for Caracas.