Europe
Catalans stage pro-independence rally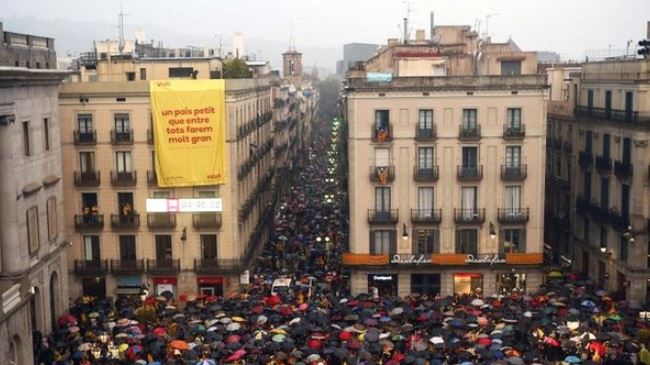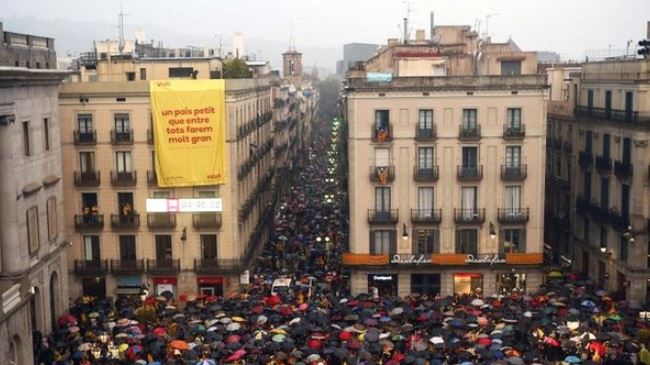 Thousands of demonstrators have taken to the streets of Barcelona, vowing to disobey Spain's blocking of Catalonia's independence referendum.
Some 5,000 angry Catalans gathered in one of the city's main squares on Tuesday, waving Catalan independence flags and chanting 'We will vote".
"Not rain nor snow nor any court will stop us," said Carme Forcadell, leader of the Catalan National Assembly, adding, "On November 9, we will vote and we will win."
Pro-independence demonstrations were also held in several other Catalonian towns.
The protests follow a Monday decision by Spain's constitutional court to suspend Catalonia's referendum on independence after a request from the Spanish Prime Minister Mariano Rajoy.
The Spanish government lodged a formal appeal with the constitutional court, asking it to declare the independence referendum illegal.
The Spanish premier expressed regret over a recent decision by Catalan President Artur Mas to call for the November 9 vote, which is designed to allow the region to declare its independence from Madrid.
Catalonia's regional parliament has approved a law that allows its leaders to hold consultations on independence. However, a 'Yes' vote for independence in the referendum will not automatically lead to the secession of the region. The vote would only give Mas the mandate to negotiate independence with the Spanish administration.
The wealthy northeastern region of Spain has a population of 7.6 million people, accounting for nearly one-fifth of the country's economy, and has been seeking independence for years.
Polls indicate that a huge majority of Catalans demand an independence referendum, encouraged by a similar referendum in Scotland earlier this month.