Europe
Catalonia launches campaign for independence referendum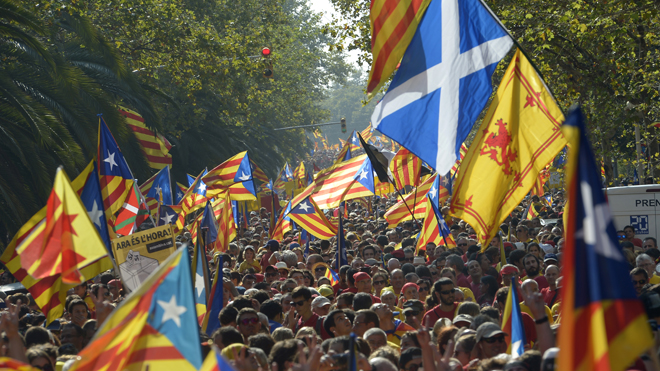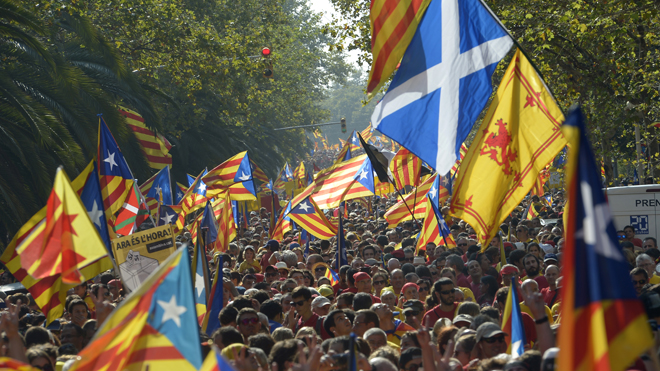 Catalan separatists have announced their decision to start a campaign for a vote of independence from Spain, despite Madrid vowing to stop the move.
The campaign was scheduled to kick off on Thursday at 8:00 pm (1800 GMT) in the port of Tarragona about 100 kilometers south of Barcelona.
Catalonia's parliament has laid the ground for a referendum on independence from Madrid on October 1.
Spain's central government insists the vote is illegal and the Constitutional Court has suspended it, pending a formal decision by judges.
Spanish police have orders to prevent preparations for the ballot, while anybody collaborating in its organization is also legally liable.
President of Catalonia Carles Puigdemont and representatives of Catalonia's main separatist parties and associations have announced their decision to attend the gathering at a 10,000-seat capacity bullring in Tarragona.
The pro-independence camp has two weeks to win over its critics who are reluctant to take part in the independence referendum.
If they win, the separatists have vowed to declare independence within days for the wealthy northeastern region of Spain, with its capital Barcelona, which is home to around 7.5 million people.
Parties that oppose secession will not take part in the campaign for the referendum, which was declared illegal by Spain's Constitutional Court, and have asked their supporters to boycott the vote.
'Absolutely illegal act'
Spain's conservative Prime Minister Mariano Rajoy, who will travel to Barcelona on Friday, has also urged Catalans to stay away from the poll.
"If anyone urges you to go to a polling station, don't go because the referendum can't take place, it would be an absolutely illegal act," Rajoy said on Wednesday.
Spanish state institutions are mounting pressure on Catalan officials to stop the referendum.
Spain's public prosecutor has ordered a criminal probe of the over 700 Catalan mayors who have so far agreed to help stage the referendum and threatened to arrest them if they do not turn up for questioning in court.
On Thursday, prosecutors in Catalonia filed legal proceedings against the five members of an electoral board set up by the regional government to oversee the banned vote.
Prosecutors have also ordered police to seize ballot boxes, election flyers and any other item that could be used in the referendum and launched an official complaint against Puigdemont and other top Catalan officials over their referendum plans.
EU not to recognize independent Catalonia
President of the European Commission Jean-Claude Juncker warned Catalans on Thursday that an independent Catalonia would have to apply to join the European Union, adding that such a policy would apply to any new state.
"If there were to be a 'yes' vote in favor of Catalan independence, then we will respect that opinion. But Catalonia will not be able to be an EU member state on the day after such a vote," Juncker said on YouTube and broadcast by Euronews.
Echoing a stance made by his predecessor Jose Manuel Barroso, Juncker said any newly independent state must follow the same EU membership procedures as all aspirants, citing Scotland and, in jest, his home country Luxembourg.
"If northern Luxembourg were to secede from the south, the same rules would apply," Juncker said.