Turkey
Chaos in Turkey for the sake of 'The Promised Land' of Zionism- Turkey clashes death toll hits 37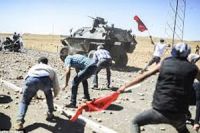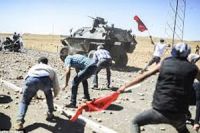 The death toll from clashes between Turkish police and pro-Kurdish protesters across the country has risen to 37.
According to the Hurriyet Daily News, speaking to reporters in the capital Ankara on Friday, Interior Minister Efkan Ala said 31 people were killed and 351 others injured in the protests that resumed for the fourth consecutive day in various cities.
Ala said "This spiral of violence should immediately be stopped," adding "Everyone should do their part to put an end to these incidents. We should all stand in solidarity with each other."
He noted over 1,000 protesters have been detained in 35 provinces.
Hours later, Turkish news agencies reported that six more injured people, including two police officers, died in hospitals.
Police used tear gas and plastic bullets to disperse the protesters who were trying to march to Istanbul's Taksim Square on Friday. Several people were detained in the crackdown.