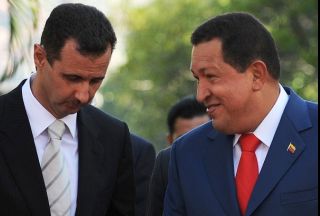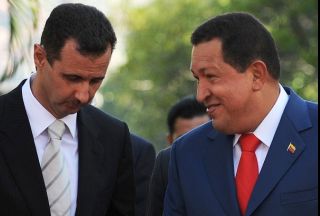 Venezuelan President Hugo Chavez has strongly criticized Israel over its acts in the Middle East, describing it as a genocidal regime and an assassin for the US.
Chavez made the comments during a meeting with visiting Syrian President Bashar al-Assad, who is on a Latin America tour aimed at consolidating ties.
"But one day the genocidal state of Israel will be put in its place, and let's hope that a really democratic state emerges there, with which we can share a path and ideas. It has become the assassin arm of the United States; no one can doubt it. It is a threat to all of us. Not just to you but to us as well. A threat to the countries who fight for their freedom," Reuters reported Chavez as saying on Saturday.
The Venezuelan leader also criticized Israel's occupation of the Golan Heights and threw his weight behind a "peaceful solution for the return of the Golan Heights to Syria."
According to Chavez, Assad's visit was part of a "strategic project of cooperation to build the Caracas-Damascus axis," AFP quoted him as saying.
"Our calling is to play a key role in freeing the world (by fighting) against imperialism, against the capitalistic and neoliberal hegemony that today threatens the survival of the human race," Chavez said.
For his part, the Syrian leader reflected Chavez's remarks and denounced Israel for its recent deadly attack on the international aid fleet en route to the Gaza Strip.
"In any case what happened with the flotilla and what the Israeli troops did when they attacked the flotilla … is another testimony of the criminal nature of Israel and its intention not to have peace and that it is a state based on terrorism," said Assad.
The Syrian chief executive also lauded Chavez's criticism of the United States and Israel and praised Venezuela's role in the international arena.
"He has revealed an image of Venezuela in resistance, creating a place for Venezuela on the international map. He has been on the side of just causes both in Latin America, in our region, the Middle East and in the whole world," noted Assad.
Assad arrived in Venezuela on Friday and is also scheduled to visit Cuba, Brazil and Argentina.