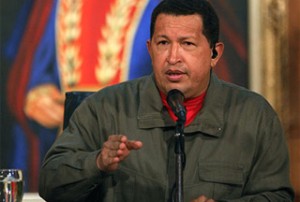 Venezuelan President Hugo Chavez has attacked capitalism and capitalist countries, saying the system is a 'road to hell.'
The capitalist countries "promote the need for cigarettes, drugs and alcohol so they can sell them. That's capitalism, the road to hell," Chavez said during his weekly program.
Criticizing video games and their negative effects on children, he added that the Western states produce games that show cities being bombed so as to sell weapons more easily.
"Some games teach you to kill. They once put my face on a game, 'you've got to find Chavez to kill him,'" the president said on Sunday.
Chavez also urged the country's manufacturers to make educational toys and dolls with indigenous peoples' features to replace the profusion of their capitalistic counterparts.
He suggested designing indigenous dolls to sell in place of dolls "like Barbie that have nothing to do with our culture."
Last October, Venezuelan lawmakers passed a law outlawing the sale of bellicose games and video games, punishable by up to five years imprisonment.