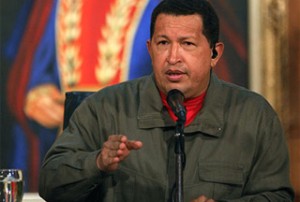 Venezuelan President Hugo Chavez has warned that he may expel Japanese carmaker Toyota unless it produces an all-terrain model suitable for poor and rural areas.
In a speech late on Wednesday, Chavez also said that he would not hesitate to expel and expropriate plants from other Asian and US automobile companies operating in Venezuela should they fail to share the technology with the locals.
"What's this that Toyota doesn't want to make the 'rustic' model here?" Chavez said, during a ceremony in Caracas to hand owners the keys to economically-produced cars that Venezuela's government has imported from Argentina.
"We must force them. And if they don't, then they should leave and we'll bring another company in … The Chinese want to come and they make 'rustic' models."
Chavez has ordered the trade ministry to carry out a severe inspection of Toyota, and asked other companies to begin sharing their technology with indigenous firms.
During a decade in power, Chavez has nationalized large swathes of the Venezuelan economy — including the oil and power sectors as part of his "21st century revolution," but has so far left car manufacturing relatively untouched.