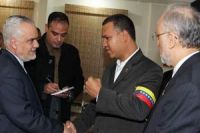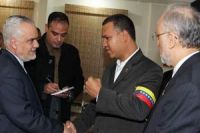 Iran's First Vice-President Mohammad Reza Rahimi has expressed confidence that the aspirations of late Venezuelan President Hugo Chavez will continue to inspire Latin American nations.
According to Press TV, Rahimi on Sunday said "Although Chavez is not physically present among the people today, his spirit and aspirations will remain lasting among the Venezuelan nation and the people of Latin America."
Rahimi, accompanied by Iranian Foreign Minister Ali Akbar Salehi, visited the Venezuelan embassy in Tehran to convey the Islamic Republic's condolences to the nation and government of Venezuela.
The Iranian vice president said "With Mr. Chavez's decease, Iran lost one of its best friends."
Chavez died at a military hospital in Caracas on March 5 at the age of 58 after a two-year battle with cancer.
Rahimi praised Chavez as a legendary figure who established a culture in Latin America and was "a thorn in the side of the enemies and oppressive powers."
The Iranian vice president expressed optimism that the successor of the late Venezuelan leader will be a competent figure who is capable of filling his void.
Rahimi pointed to the remarkable enhancement of the Iran-Venezuela ties under Chavez's tenure and underscored the importance of the further promotion of the mutual relations.
For his part, Venezuelan Ambassador to Iran Amenothep Zambrano expressed gratitude for Iran's sympathy and noted that Chavez considered Iran a "brave and revolutionary nation" and always praised the dignity of the Iranian nation. Zambrano noted that Chavez always urged the Venezuelan nation to follow the revolutionary and resilient Iranian nation as a model.