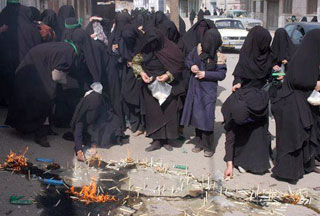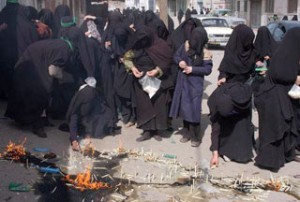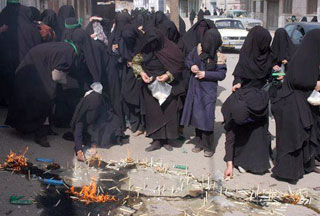 Thousands of women in Iran's western province of Lorestan have commemorated the martyrdom anniversary of Prophet Muhammad's grandson, Imam Hussein (PBUH) by means of a special tradition referred to as 'Chehel Minbari'.
According to an IRNA report, women from cities and towns across the province covered their faces, and walked in silence as they knocked on the doors of forty houses and lit candles in forty spots as mourners beat their chests in their grief over the suffering and martyrdom of Imam Hussein (PBUH), along with 72 of his loyal companions in a place still called Karbala in southern Iraq, in 680 CE.
The report added that the tradition is upheld every year on Tasu'a, which falls on the ninth of Muharram, as a show of solidarity with the sister of Imam Hussein and one of the most knowledgeable Muslim women of her time, Hazrat Zainab (PBUH). The ritual starts after participants have said their dawn prayers and ends at dusk prayers.
Shia mourners throughout the world gather on Tasu'a to commemorate the martyrdom anniversary of Imam Hussein (PBUH), the grandson of the Prophet Muhammad (PBUH).
Today, with a mixture of wonder, sorrow, and admiration, the mourners listened to tales of resolute courage, generous self-sacrifice and the infinite patience of Imam Hussein (PBUH) as he faced severe hardship for the attainment of a sacred goal.
Imam Hussein (PBUH) not only saved Islam from deviation, distortion and corruption by the forces of apostasy and oppression, but he also revived the institution of martyrdom. In a world of cowardly men, who loved life in this physical world, he achieved martyrdom because of his devotion to the eternal truth.