Iraq
Iran
Middle East
Chief of IRGC Quds Force wraps up two days of talks in Iraq: Al-Alam
Brigadier General Esmaeil Qa'ani, the commander of the Quds Force of Iran's Islamic Revolution Guards Corps (IRGC), has ended a two-day trip to neighboring Iraq, the Arabic-language Al-Alam news network reports.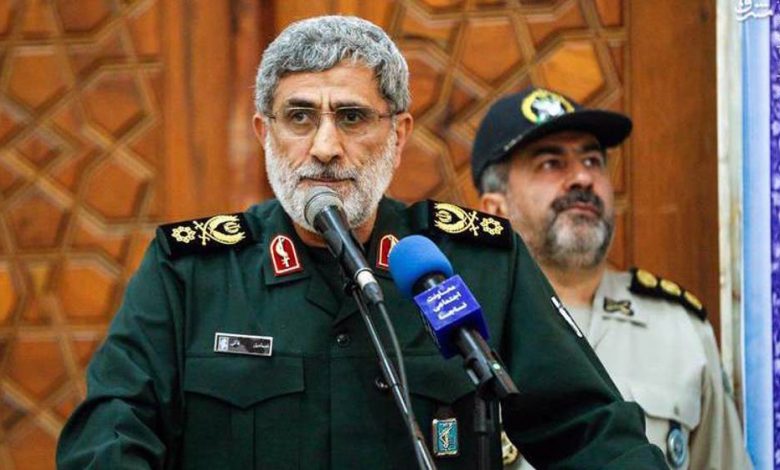 Citing informed sources as saying, the Iranian news channel's correspondent said Tuesday that the IRGC Quds Force's chief had met with a number of Iraqi officials and senior figures besides leaders of political parties and movements in the Arab country.
The meeting, the report said, focused on the developments concerning bilateral relations between the two neighboring countries as well as regional issues of common interest.
Qa'ani was appointed as chief of the IRGC's Quds Force following the assassination of his predecessor, Lieutenant General Qassem Soleimani, by the US military during an official visit to Baghdad.
General Soleimani was martyred — along with Deputy Commander of Iraq's Popular Mobilization Units Abu Mahdi al-Muhandis and a number of their comrades — when his vehicle was hit by a drone strike ordered by ex-US president Donald Trump.
The IRGC's Quds Force under General Soleimani played a key role in the Iraqi armed forces' successful campaign that liberated the Arab country's soil from Daesh, the world's most notorious terror group, in late 2017.
Qa'ani has vowed to continue the path of General Soleimani, whose main goal was to drive American forces out of the region.
That pledge prompted the US to threaten the Islamic Republic with yet another act of state terrorism and say Washington will assassinate General Soleimani's successor as well if he follows in the path of the martyred general.
Qa'ani had visited Iraq twice in December 2020, when he met senior Iraqi officials, including Prime Minister Mustafa al-Kadhimi, on a range of issues such as political ties and security cooperation between the two neighbors.