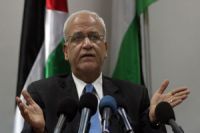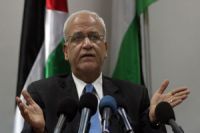 The Palestinian Authority (PA)'s chief negotiator says the Palestinian resistance movement Hamas is not a terrorist organization.
Saeb Erekat said in an interview on Friday that Hamas does not need to recognize the Israeli regime as long as Tel Aviv does not recognize the state of Palestine.
"Hamas is not and will never be a terrorist organization to us," Erekat said, adding, "Hamas is not required to recognize Israel," because the state of Palestine is not recognized by Israeli Prime Minister Benjamin Netanyahu and other Israeli authorities.
Erekat's remarks come as the Israeli regime is angered by a deal reached between the PA and Hamas on Wednesday to form a unity government within five weeks.
The Israeli regime says the PA must choose between the so-called peace talks with Tel Aviv and Hamas.
Last Palestinian-Israeli talks broke down in September 2010, after Tel Aviv refused to freeze its settlement activities in the occupied West Bank.
Palestinians are seeking to create an independent state on the territories of the West Bank, East al-Quds (Jerusalem), and the besieged Gaza Strip and are demanding that Israel withdraw from the occupied Palestinian territories.
The presence and continued expansion of Israeli settlements in occupied Palestine has created a major obstacle for the efforts to establish peace in the Middle East.
More than half a million Israelis live in over 120 illegal settlements built since Israel's occupation of the Palestinian territories of the West Bank and East al-Quds in 1967.
The United Nations and most countries regard the Israeli settlements as illegal because the territories were captured by Israel in a war in 1967 and are hence subject to the Geneva Conventions, which forbid construction on occupied lands.