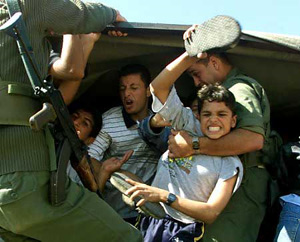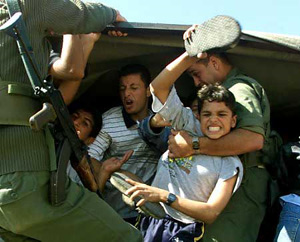 We are children, all we want is to live safe in our homes, village, and city without having our lives disturbed by the settlers and Jewish Zionist every day and every hour… we only want freedom".
With these words, Rahaf Hassan Saleme, 14 year old Al Quds (Jerusalem) child, started talking about the suffering of all the Palestinian children in the occupied city of Al Quds (Jerusalem), precisely in the camp located northern the holy city. The camp is always targeted by the occupiers through attacks and surrounding it with the separating wall and settlements.
The child, Rahaf, spoke about the daily sufferings of the children living behind the separating wall, where they were separated from their friends, relatives, and Al Aqsa Mosque.
"When I was in the primary years at school, we used to visit our relative in the old city easily, but now, we are deprived from that" Rahaf said. She went on saying, "We long for prayer in Al Aqsa Mosque, and wandering around the old city".
Salameh recalls how the occupiers attacked her home more than once before, in order to detain her brother, accompanied with destruction parts of the house and assaulting them.
"The soldiers used to break in the house in the middle of the night and start yelling at us while we were asleep. They used to bring into our rooms the police dogs, and then take my old brother with them", Rahaf stated.
As Rahaf Salemeh speaks about her forced separation from the city, other children were direct aims through arrests and investigations, which also included physical assaults.
Detained 6 Times
Muslim Awdeh, 11 year old child, has been detained 6 times, the last was last month, by a group of Zionists, which covered his face with a mask to claim he participated in stoning. Muslim was also hit and assaulted, leading to wounds in his eye, and bleeding which kept him hospitalized for four days.
"The occupier seeks the destruction of our homes to build a park for the settlers' children, and in return, displace us and keep us without any address, although there are tens of parks and gardens for the settlers and their children", Muslim said.
Awdeh added, "We throw stones at them [the "Israeli" enemy] to defend ourselves and our existence in our city. They are surrounding us, constantly assaulting us on a daily basis, shooting bullets and gas at us, and protecting the settlers to whom they're planning the destruction of our homes and seizing them".
According to Muslim Awdeh, the Zionist troops are dealing with the children as if they were grownups, and do not take into consideration their age especially when detaining them.
"They detain us with the criminals, and they do not allow us to see our parents, not even a lawyer. They deprive us sleep, food and drinks until we confess", Muslim noted.
1200 Detained Child
In a statement issued by the Palestinian Media Minister on the Palestinian Child's Day, which happens to be on April 5, it was revealed that the Zionist troops have detained in the last year over 1200 child from the occupied city of Al Quds (Jerusalem).
The Minister said in its statement that these children age between 15 and 17 years, and most of them were accused of throwing stones at Zionist settlers.
Furthermore, the report added that 95% of the detained children were beaten up and were subject to assaults, insults, and investigation in centers inside Zionist settlements.
The report affirmed that many of the children's confessions were a result of pressure and torture, where they were forced to sign certificates written in Hebrew, which the children don't know what meant, but were prosecuted according to that.
Moreover, the Minister's report further pointed out that the year 2010 has witnessed a deliberate attack through arrests, and children pursuing in occupied Al Quds (Jerusalem) and areas surrounding it, especially in Silwan, Issawiya, Abu Dis, Azariah, Wadi Hilweh.
The report affirmed that 500 arrest cases were charged with throwing stones at settlers and soldiers, and in some cases children, no more than 8 years old were arrested.
According to the report, there almost isn't any child in Silwan aged 10 year or even 14, who hasn't been detained for being a suspect of throwing stones at settlers, this comes during attempts to take over Arab homes in the area.
The most dangerous of the aforementioned attempts, is forcing house imprisonment on 65 children from Al Quds (Jerusalem), for a period of 1 to 6 months after their release. The enemy also imposes fines on them, and bans them from going to school of making use of medical services.