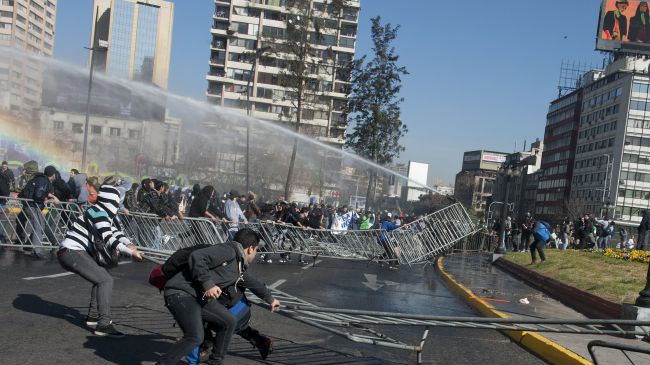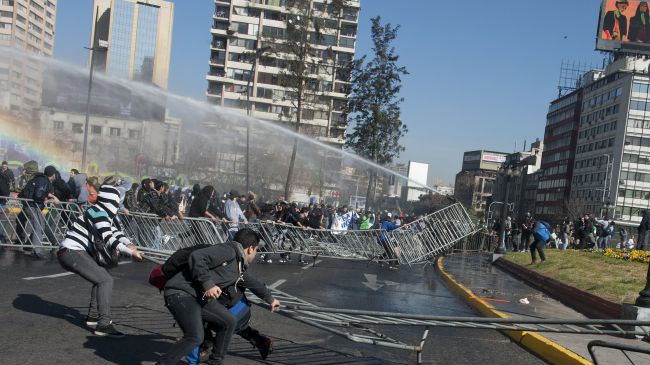 The Chilean police have stormed three high schools in the capital Santiago, arresting 139 student protestors who had occupied the buildings.
Violent clashes took place on Thursday, after police moved into the schools to evict students who had been staging a week-long occupation to voice their opposition to the government educational policies.
The recent occupation is part of the continuing demonstrations that has spread across the country over the past year with students demanding more funding and a major educational overhaul.
Water cannons were used by the police in a bid to evict the students, who had been occupying the capital's three major high schools – Dario Salas, Miguel de Cervantes and Confederacion Suiza.
"It is a direct assault on public education and on the chance to advance towards ending inequality in Chile," said Camila Vallejo, a student leader who came into prominence during student protests in the South American nation.
The capital's mayor Pablo Zalaquett ordered the eviction of the schools, after meetings with student representatives did not end in an agreement between the two sides to allow classes to resume.
Protesters, however, moved to other schools and continue their anti-government occupation.
The student leaders have called on people to attend demonstrations on August 23 and 28 to protest educational policies.