Chile wildfires prompt officials to declare red alert for three national parks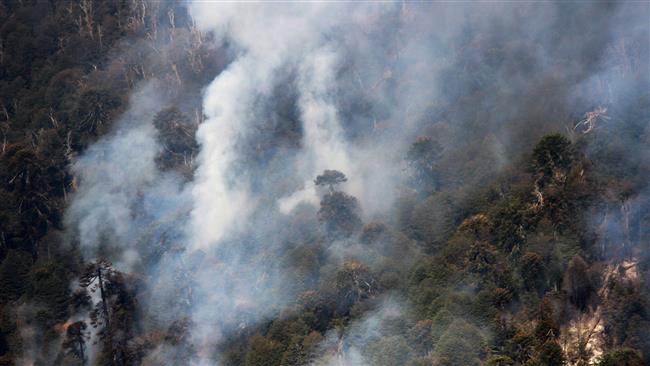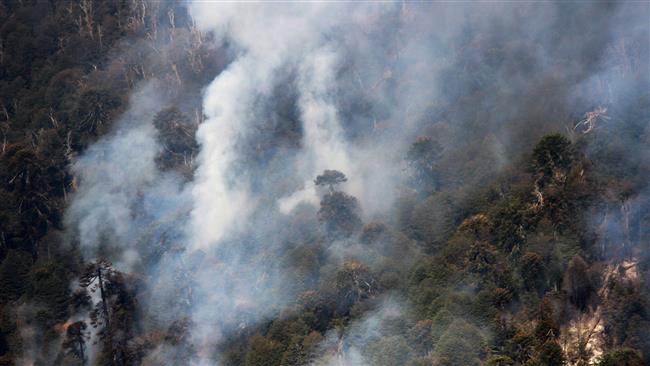 Wildfires continue to rage in woodlands across Chile, prompting authorities to declare a red alert for three national parks where centuries-old forests are being threatened.
The Tuesday warning came as the massive fires have been raging for more than a week in the drought-stricken southern region of La Araucania.
This is while the country's National Emergency Office (ONEMI) stated on Monday that the wildfires "remain out of control at the moment, with high probability of spreading and intensifying."
According to local press reports, the fires are burning in three protected areas of China Muerta National Reserve, Nalca Lolco National Reserve and Conguillio National Park.
The blaze has so far affected 4,500 hectares, including 200 hectares in Conguillio, an Andes mountain park, which is a major tourist attraction due to its volcanoes and centuries-old monkey puzzle trees, members of the pine family that can live for more than 1,000 years and grow as tall as 50 meters.
The trees are regarded as sacred by native Mapuche people, and Chile has declared them part of its unique national natural heritage.
Meanwhile, head of Chile's national forest service, Aaron Cavieres, underlined that firefighters were struggling to keep the raging fires away from populated areas.
"High temperatures and strong winds of more than 50 kilometers an hour are complicating our work to contain the fires," he added.
Moreover, environmentalists have cautioned that the fires are threatening hundreds of plant species and animal life, describing it as "massive environmental catastrophe."
The national forest service also announced that firefighters would start spraying a number of areas with a chemical flame retardant to create firebreaks.
This is while three aircraft and four helicopters are backing up 15 firefighting brigades in the affected area, located nearly 700 kilometers south of the capital, Santiago.