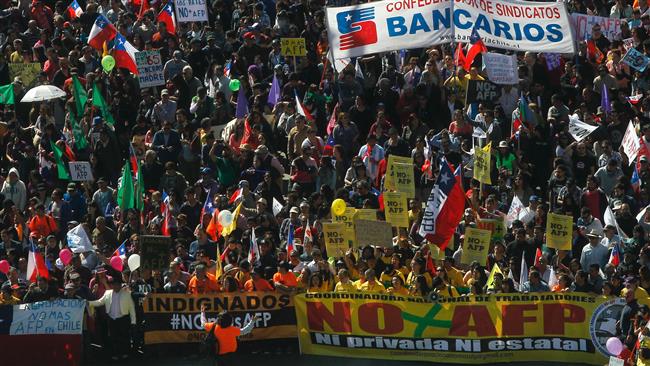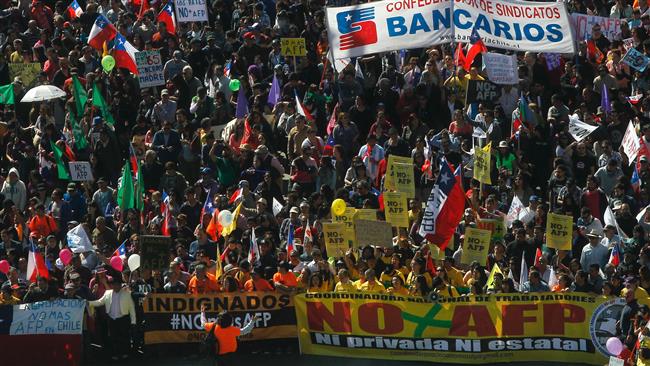 Hundreds of thousands of Chileans have taken part in a nationwide protest demanding better provisions for retirees.
They milled through the streets in the capital on Sunday to put pressure on the government to adapt a pension system that would provide better retirement benefits.
The protesters in Santiago and other cities said they wanted the current pension system dismantled.
Chile's current private pension system was launched  in the 80s by free market advocate José Piñera during Augusto Pinochet's dictatorship.
The US-educated economist Pinera, who served as minister of labor and social security, and of mining under Pinochet, has been described as the world's foremost advocate of privatizing public pension systems.
Chile's pension system is run by six private pension fund administrators, known as AFPs, which manage some $160 billion in assets.
"We expect the president and her government to open a dialogue and listen to the citizens of the country, and not just the owners of the AFPs," said Luis Mesina, spokesman for a group called No More AFPs, which organized the march.
Some marchers carried signs reading: "Chileans Ripped Off".
President Michelle Bachelet has offered a plan to hike the pension contribution rate by 5 percentage points. That would cost about $3.8 billion a year, with the state paying $1.5 billion, the government said earlier this month.
Many Chilean workers are not able to pay the required retirement fee, because their salaries are not increased by employers annually to meet inflation.
Additionally many workers have difficulties to achieve the many decades of monthly payments needed to ensure at least a minimum pension.