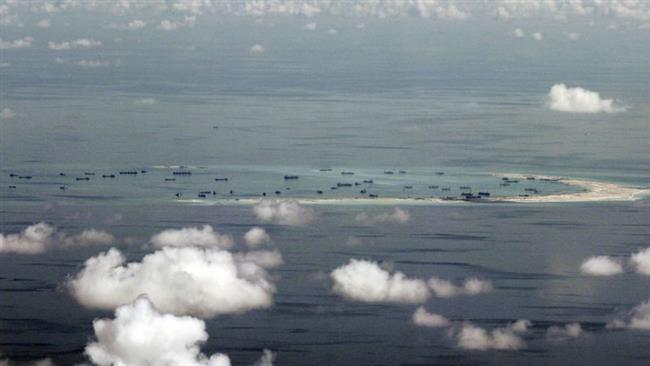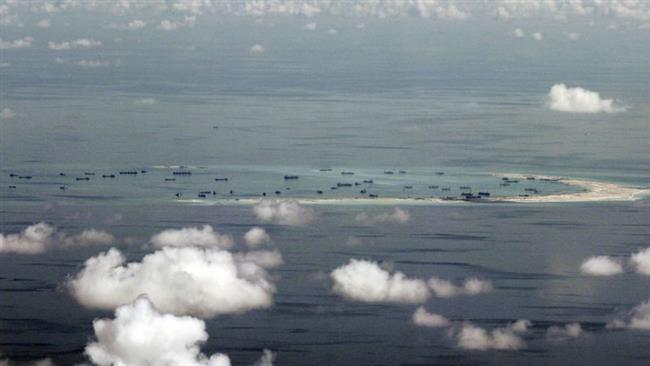 Beijing says it will complete its island-building projects in the South China Sea soon amid a row between China and its Asian neighbors, which all claim sovereignty over the disputed waters.
In a Tuesday statement, the Chinese Foreign Ministry said the land reclamation work on some of the islets and reefs of the disputed Nansha Islands, known as Spratly Islands by China's rivals, will finish in the "upcoming days."
"It is learned from relevant Chinese competent departments that, as planned, the land reclamation project of China's construction on some stationed islands and reefs of the Nansha Islands will be completed in the upcoming days," the statement said.
According to the statement, the country will build infrastructure on the islands to perform functions ranging from maritime search and rescue to environmental conservation and scientific research.
The Chinese ministry also defended the construction work on Nansha Islands, which lie at the heart of the South China Sea territorial dispute, saying the projects pursue civilian purposes and are "lawful, reasonable and justified."
The ongoing construction work on the islands has increased tensions between China and its neighbors.
China claims sovereignty over almost the whole of the South China Sea, which is also claimed in part by Taiwan, Brunei, Vietnam, Malaysia and the Philippines. The waters are believed to sit atop vast reserves of oil and gas.
Beijing has repeatedly announced that the construction activities fall within China's sovereign rights, stressing that most of the installations, once completed, will assist navigation in the South China Sea.
Meanwhile, the United States has sided with China's rivals in the territorial dispute, with Beijing accusing Washington of meddling in the regional issues and deliberately stirring up tensions in the South China Sea.
Last month, US Defense Secretary Ashton Carter warned China to stop building islands in the South China Sea, vowing that Washington will not stop patrolling international waters and airspace in the Asia-Pacific region.
A day later, Admiral Sun Jianguo, the deputy chief of the general staff department in China's People's Liberation Army, responded to carter's remarks, saying his country's ongoing construction work on disputed islands in the South China Sea has defense purposes and is meant to enhance China's capabilities toward meeting its international obligations, including those regarding environmental issues.