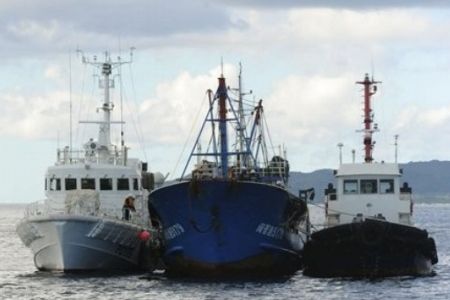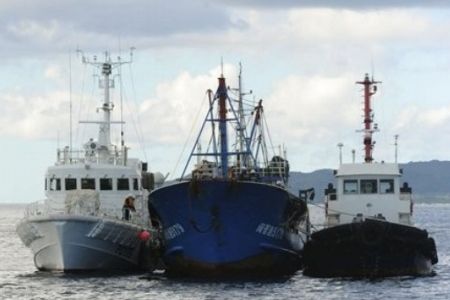 Chinese Prime Minister Wen Jiabao has warned Japan of further action if Tokyo fails to immediately release a Chinese boat captain seized two weeks ago.
In the toughest reaction so far from Beijing, Wen demanded immediate release of the captain who was arrested by Japanese authorities following a collision between his fishing boat and two Japanese patrol vessels near the disputed Diaoyu Islands in the East China Sea.
"I strongly urge the Japanese side to release the skipper immediately and unconditionally," Wen was quoted by the official Xinhua news agency as saying in New York on Wednesday.
"If Japan clings to its mistake, China will take further actions, and the Japanese side shall bear all the consequences that arise," he added, urging Tokyo to "correct its mistakes to bring relations back on track. "
The premier's comments are the first by a top Chinese leader on the issue that has led Beijing to suspend ministerial-level contacts with Tokyo. China also said Wen would not meet with Japanese Prime Minister Naoto Kan at the UN headquarters in New York this week, AP reported.
However, Japan announced Wednesday it was ready for dialogue to resolve the deadlock.
"It would be good to hold high-level talks, including a comprehensive and strategic dialogue, as quickly as possible," Japan's Chief Cabinet Secretary Sengoku told a news conference in Tokyo.
The dispute between the two Asian powers began two weeks ago, when the Chinese boat and two Japanese coast guard vessels collided in an area in East China Sea. Tokyo suspects the Chinese vessel deliberately rammed the Japanese ships.
Japan arrested 14 crew members and the captain of the fishing boat.
Japan freed the boat's crew members after a few days, but it said the captain would remain in Japanese custody until September 19 on suspicion of deliberately obstructing the work of officers on duty — a charge that carries up to three years imprisonment.
Earlier, Beijing threatened Tokyo with strong counter-measures after a Japanese court extended the detention of the captain.
China has also summoned Japan's ambassador to Bejing to protest the move several times.