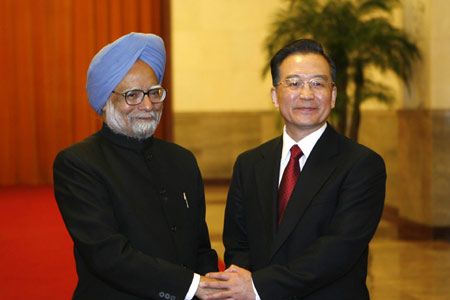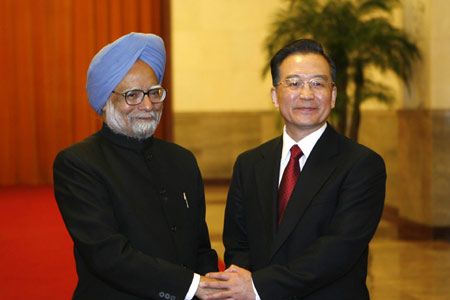 Chinese Premier Wen Jiabao and Indian Prime Minister Manmohan Singh have held a meeting in Hanoi on the sidelines of the Association of South East Asian Nations summit.
Wen told Singh that there is enough space in the world for China and India to grow, the Indian daily The Economic Times reported after the meeting, which was held on Friday.
The two leaders agreed that both sides need to "show sensitivity" to each other's core issues.
"You have said on many occasions that there is enough space in the world for India and China to achieve common development. On top of your remarks, I add that there is enough space in the world for India and China to have cooperation," Wen stated.
Singh informed Wen about New Delhi's concern over Beijing's increased presence in Pakistani-administered Kashmir, specifically the growing interests of Chinese companies in the region.
Commenting on his upcoming trip to India, which is expected to take place in mid-December, the Chinese premier said he would like a consensus on all outstanding issues before he visits New Delhi.
Indian National Security Advisor Shivshankar Menon said the two special representatives from India and China – Menon himself and Chinese Vice Foreign Minister Dai Bingguo — were given clear directions to work out a road map for resolving all outstanding issues, and the two will hold a meeting next month in Beijing.
Menon added that the two countries would work together on a number of issues, such as food security, energy, and climate change.
"The Copenhagen cooperation in climate change will be taken forward," the Indian national security advisor stated.
On the trade imbalance between the two countries, the Indian prime minister said the current imbalances are working against India's interests.
Singh told the Chinese premier that there was a need for China to lower its import barriers, both tariff and non-tariff, especially with respect to Indian exports of pharmaceuticals.
Pundits say the conciliatory stance adopted by China at the meeting augurs well for the future and allays India's concerns about the rise of China.