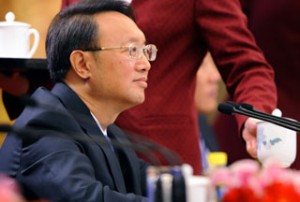 Beijing blames the soured Sino-US relations on Washington policies in the region, insisting better ties are possible should the US respect China's interest.
"The responsibility for the difficulties in China-US relations does not lie with China," Chinese Foreign Minister Yang Jiechi said on Sunday on the sidelines of the annual meeting of the National People's Congress.
Washington's planned sale of a $6.4-billion weapons package to Taiwan, the self-governing island which China claims to be part of the mainland, has contributed to the Chinese displeasure with the US.
"The United States should take seriously China's position and respect China's core interests," Yang noted. The move pushed China to suspend military exchanges with those US firms involved in the arms deal, threatening to retaliate against them.
Another US move that has prompted strong Chinese reaction has been the meeting between US President Barack Obama and the exiled Tibetan leader, the Dalai Lama.
China says the Dalai Lama seeks independence for the Himalayan region and thus considers persistent efforts by the US to open ties with the separatist leader as interfering with issues of Chinese national interest.
However, referring to a recent visit by two high-level US officials, Deputy Secretary of State James Steinberg and Senior White House Asia adviser Jeffrey Bader, Yang said "we don't think diplomatic efforts have been exhausted."