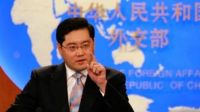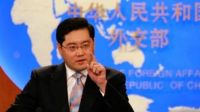 A senior Chinese official has blasted Japanese Prime Minister Shinzo Abe for making a ritual offering to a war-linked controversial Yasukuni Shrine.
According to AFP, Chinese Foreign Ministry spokesman Qin Gang told a press briefing in Beijing  on Monday that the Japanese leader's offering and his ministers' visits to the shrine exposed the "wrong attitude of the Japanese cabinet toward history."
This remark come hours after Abe sent an offering to the shrine in Tokyo on the occasion of its spring festival.
Qin also urged the Tokyo government to refrain from "provocative actions."
"We urge the Japanese side to take a correct attitude on historical issues, stop making provocative acts, and win the trust of Asia and the world through concrete moves," Qin said, adding, "Japanese leaders' attitudes toward the Yasukuni Shrine, which honors Class-A WWII war criminals, show whether Japan can face up to and reflect on the history of Japanese militarist aggression," he said.
Also in December 2013, Abe became the first Japanese premier in seven years to pay his respects at Yasukuni Shrine, where Japanese veterans are buried.