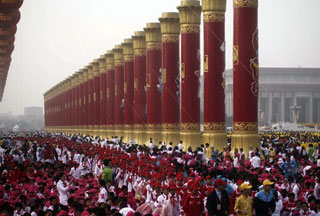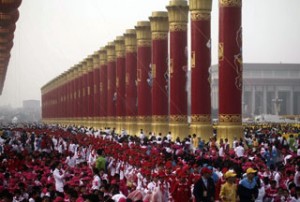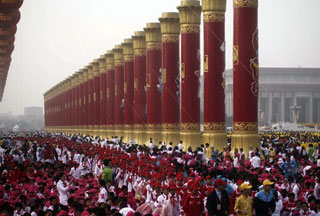 National stability and ethnic unity are central to ensuring China's development, says the Chinese premier ahead of celebrations marking 60 years of Communist rule.
"We must unwaveringly protect social stability, and protect the fundamental interests of the people," Premier Wen Jiabao told the officials and leaders gathered in the echoing Great Hall of the People on Wednesday.
The premier added that the government must promote socialist democracy, improve the legal system, and adhere to the rule of law to achieve lasting stability.
Jiabao's comments came a few hours before China formally kicked off celebrations with a 60-gun salute that rung out across Beijing's historic Tiananmen Square.
China's capital remains under tight security in the run-up to festivities on October 1, staging a military parade through the heart of Beijing to demonstrate the country's rising global influence.
China expects the parade of soldiers, tanks and missiles, dozens of elaborate floats, and 100,000 well-drilled civilians to display a proud Communist Party and its achievements before invited guests.